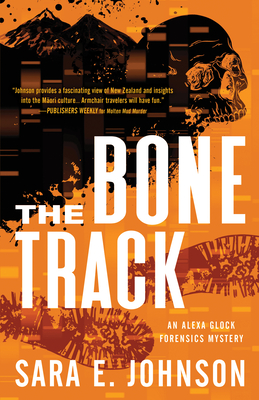 The Bone Track (Alexa Glock Forensics Mysteries)
Paperback

* Individual store prices may vary.
Description
A nature trek turns dangerous when the wilderness gives up its bones...
New Zealand's remote Milford Track seems the perfect place for forensic investigator Alexa Glock to reconnect with her brother Charlie, with whom she hasn't spent much time since they were kids. Their backpacking trip seems ill-fated from the start, though, when she must stop on the way to examine nine skeletons—most likely M?ori tribespeople—whose graves have been unearthed by highway construction. Before she opens the first casket, a M?ori elder gives her a dire warning: "The viewing of bones can unleash misfortune to the living. Or worse."
Though Alexa dismisses his words as superstitious, they soon come back to haunt her as the idyllic hike takes a sinister turn. First, Charlie is aloof and resentful of the time Alexa has spent at work. Then a rock avalanche nearly carries her away as it reveals the skeletal remains of someone who has clearly been stabbed to death. When a fellow hiker goes missing and is later found dead, Alexa has all she can do to focus on the science as she investigates two murders, while trying not to become the third victim.
Praise For The Bone Track (Alexa Glock Forensics Mysteries)…
"Alexa muses, about the same time we do, that we're in a "locked-room manor mystery," though this one is surrounded by a natural world as malevolent as the humans inside. This third entry in the Alexa Glock series takes the blinders off our view of the great outdoors." — Booklist

"A vacation hiking New Zealand's Milford Track turns deadly for forensic odontologist Alexa Glock, her brother, and the two dozen people in their group. Familiarly novel territory for fans of Aaron Elkins and Kathy Reichs." — Kirkus Reviews

"This book stands out due to its unusual location and forensic-science focus...especially Alexa's fascinating specialty: dead people's teeth." — First Clue

"The real star here is New Zealand's Milford Track. Armchair travelers will best appreciate this one." — Publishers Weekly
Poisoned Pen Press, 9781464213977, 384pp.
Publication Date: February 15, 2022
About the Author
Sara E. Johnson lives in Durham, North Carolina. She worked as a middle school reading specialist and local newspaper contributor before her husband lured her to New Zealand for a year. Her first novel, Molten Mud Murder, is the result.