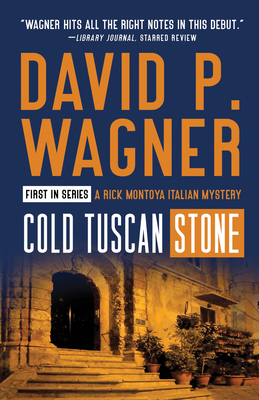 Cold Tuscan Stone (Rick Montoya Italian Mysteries #1)
Paperback

* Individual store prices may vary.
Other Editions of This Title:
Digital Audiobook (9/2/2013)
Paperback, Large Print (9/1/2013)
Compact Disc (9/3/2013)
MP3 CD (9/3/2013)
Paperback (8/7/2018)
Compact Disc (9/3/2013)
Paperback (9/1/2013)
Hardcover (9/3/2013)
Description
The first Tuscan book in David P. Wagner's Italian mysteries introduces us to Rick Montoya, an American translator who agrees to help catch art smugglers--and soon finds himself in over his head.
Perfect for readers who enjoy a complex puzzle, a bit of humor, and a fairly gentle procedural. Don't miss this one.--Library Journal, STARRED review
When Rick Montoya moves to Italy to work as a translator, he doesn't expect to get involved in an investigation. But with one favor spiraling out of control, he soon finds himself fighting for his life.
Rick Montoya has moved from New Mexico to Rome, embracing the life of a translator. He's settling in to la dolce vita when a school friend who is now senior in the Italian Art Squad recruits Rick for an unofficial undercover role. Armed with a list of galleries, suspects, and an expense account, Rick arrives in Tuscany posing as a buyer for a gallery, ready to spend his days sipping wine and examining Roman artifacts to flush out burial urn traffickers.
But before sunset on Rick's first day in Volterra, a gallery employee dies in a brutal fall from a high cliff.
The local Commissario and his team consider Rick an amateur, and worse, a foreigner. And now they suspect him in the dead man's murder. While the Volterra squad pursues its leads, Rick continues to meeting his own suspects: a museum director, a top gallery owner, a low-profile import/export businessman and his enterprising color-coordinated assistant, and a sensuous heiress with a private art specialty and clientele.
As the murder mystery and the art trafficking heat up, has Rick's role made him the target of both cops and criminals?
This special first-in-series edition includes an introduction by the author, discussion guide, author interview, and excerpt from the second book in the series.
Praise for Cold Tuscan Stone:
This is a wonderful start to a series, which should have immediate legs, and surely will thrill everyone who has lived in Italy, been to Italy, or would like to visit. As a boy I lived in both Firenze and Napoli, and reading Wagner takes me back deeply and instantly.
--Joseph Heywood, author of The Woods Cop Mysteries, The Snowfly, and The Berkut
If you are interested in Italian art and artifacts, Italian history and culture, Italian food and wine, or even just good storytelling, then Cold Tuscan Stone will be right up your cobblestone alleyway... Simply put, this exciting, intriguing, well-written mystery extends an offer no reader should refuse.
--Amanda Matetsky, author of The Paige Turner Mysteries
The intriguing art milieu, mouthwatering cuisine, and the team of the ironic Conti and the bemused but agile Montoya are bound to attract fans.
--Publishers Weekly
Other books in the Rick Montoya Italian Mysteries:
Death in the Dolomites
Murder Most Unfortunate
Return to Umbria
A Funeral in Mantova
Roman Count Down
To Die In Tuscany
Poisoned Pen Press, 9781464214646, 288pp.
Publication Date: January 26, 2021