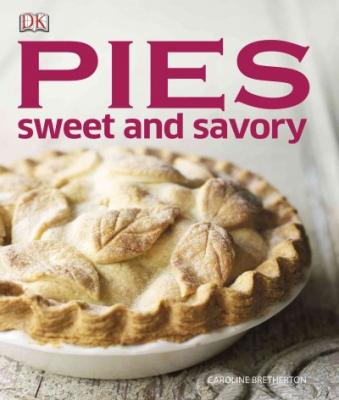 Pies (Hardcover)
Sweet and Savory
DK, 9781465402035, 352pp.
Publication Date: February 18, 2013
* Individual store prices may vary.
Description
From traditional apple and cherry pies to trendy mini-meat creations,
Pies: Sweet and Savory
provides everything needed to produce tasty creations.
Broken down by key ingredients, Pies: Sweet and Savory helps choose the "pie of the day" according to what's in season and what's lurking in the fridge and then shares a wealth of step-by-step instructions for producing the best results.
About the Author
Caroline Bretherton is a mother of two who knows food and knows families. A love of food resulted in her creating her own catering company and café—Manna Café in London's Notting Hill. She has also presented several food programs and been a contributor to The Times. She is now living in North Carolina, giving her a unique insight into the cuisines of two continents.
Praise For Pies: Sweet and Savory…
"[A] thorough examination of our love affair with the pie." –
Alabama.com
"What's not to love when the directions give you the option of making the dough from scratch or using store-bought dough? Beautifully illustrated and easy-to-follow recipes make this a keeper." – The State
"It contains a lot of good recipes and advice, including step-by-step photos for techniques." – Pittsburgh Post-Gazette
"[A]uthor Caroline Bretherton, pie practitioner par excellence, offers equally straightforward instructions for a fabulous, international array of more than 230 pies and tarts." – Bookpage
"The photographs of the finished items seem to jump out of the page screaming, 'eat me, eat me!'…this is a good, comprehensive book. It may well lead to a pie addiction!" – Marin Independent Journal
"Everything tastes better with puff pastry on top, tart dough underneath or crust all around. Bretherton is English, so the list of savory pies is extensive. Yes, she includes beef and Stilton pie, but also clever little dough pockets stuffed with Chinese barbecued duck, and an ingenious celery root and smoked bacon soufflé pie that has a crust, made with whole-wheat flour, flavored with Cheddar cheese and caraway seeds." – The New York Times
"[Pies: Sweet and Savory] offers straightforward instructions for a fabulous, international array of more than 230 pies and tarts. The photography helps develop your own style and technique." – Mountain West News
or
Not Currently Available for Direct Purchase