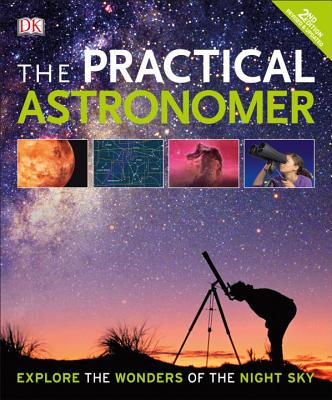 The Practical Astronomer, 2nd Edition (Paperback)
Explore the Wonders of the Night Sky
DK, 9781465445131, 264pp.
Publication Date: November 7, 2017
Other Editions of This Title:
Hardcover (6/1/2010)
* Individual store prices may vary.
Description
A complete introduction to observing and understanding the night sky, explaining and demystifying stargazing to recognize objects and explain how they move through the sky over the night and the year.
Explore the wonders of the night sky in The Practical Astronomer. Informative and easy-to-use with illustrated, step-by-step instructions and star charts with constellations visible all over the globe, the book offers practical advice with naked-eye observation, while illustrated instructions show readers how to setup and use binoculars and telescopes, and take pictures. A solar system chapter contains advice on finding and observing planets and objects such as moons, comets, and asteroids. This updated edition also includes an almanac section to identify significant events such as eclipses, plus the newest equipment and latest images of the universe to guide readers from beginner level to accomplished amateur astronomer.