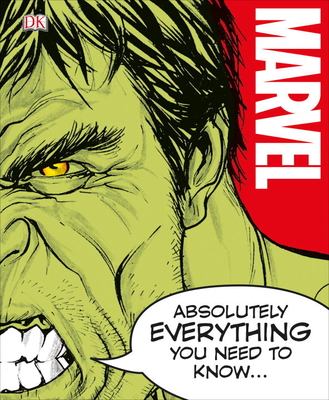 Marvel Absolutely Everything You Need to Know (Hardcover)
DK Children, 9781465452627, 240pp.
Publication Date: August 2, 2016
Other Editions of This Title:
Hardcover, Spanish (10/17/2017)
* Individual store prices may vary.
Description
Marvel Absolutely Everything You Need To Know is packed with fun facts, bizarre-but-true tales, and quirky insights into everyone's favorite Marvel comic characters, including The Avengers, Spider-Man, and Daredevil.
Discover why the Hulk comes in three different varieties—green, gray, and red—and how a frog once gained Thor's powers! This unique guide sheds light on the most fascinating corner of the Marvel Comics Universe, from secrets of the Super Heroes to the making of Marvel's finest and strangest comic moments.
From behind-the-scenes revelations to strange and interesting facts, Marvel Absolutely Everything You Need to Know will surprise and delight new and die-hard Marvel fans.
© 2016 MARVEL
About the Author
Adam Bray is a frequent contributor to DK Star Wars™ and LEGO® Star Wars books, including Ultimate Star Wars and the best-selling Star Wars: Absolutely Everything You Need to Know. Visit him online at https://twitter.com/authoradambray.
New York Times bestselling author John Sazaklis enjoys adventures of his favorite characters. To him, it's a dream come true! By day, John is a somewhat mild-mannered art director and designer at a publishing house. He has also illustrated Spider-Man books and created toys used in MAD magazine. John lives with his equally (if not more) super-powered, beautiful wife and daughter in New York City. You can check out his blog at Sazmagic.blogspot.com and follow him on Instagram at @johnnysaz.
Lorraine Cink is a comedian and writer for Marvel's weekly web shows, The Marvel Minute, THWIP! The Big Marvel Show, and Marvel Top 10. When not cracking jokes on stage, red carpet, or screen; Lorraine is a serious Marvel expert who really knows how to make her deep knowledge accessible and entertaining to a wide audience. She lives in the home of Super Heroes, New York City. Follow her adventures @lorrainecink.