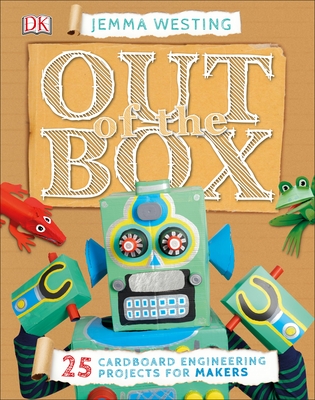 Out of the Box
25 Cardboard Engineering Projects for Makers
Hardcover

* Individual store prices may vary.
Description
From castles to animal masks, pirate ships, and even dinosaurs! You will be amazed at how much you can do with a simple cardboard box.

A DIY projects book for kids that use recycling as a way to build creativity, imagination, and interactive play for kids aged 7-12. It features clear step-by-step instructions and detailed photographic explanations that will inspire imaginative minds.


The sky is the limit with Out Of The Box! This book is designed to help kids learn and play. They will learn about the idea of upcycling and reusing materials that otherwise would be thrown away. 

This book has 25 brilliant projects for them to choose from. Detailed instructions and photographs along with colorful inspiration sheets will delight and inspire for hours of endless fun. Out Of The Box will help kids develop their creativity and imagination through interactive play, and inspire them to find a thousand more projects to build. 

Think Out Of The Box! 

A box is just a box, right? Wrong! It could be a pirate ship, a butterfly, or a family of penguins! Out of the box will encourage kids to see a cardboard box as more than junk. Kids can build their imaginations and creative skills by reusing household cardboard. Learn to build and decorate a range of projects to share, wear, and play with.    

This educational book will show kids how to: 

- Develop cardboard skills 
- Build a castle, city and pirate ship  
- Design penguins, butterflies, and rabbits
- Create games like ring toss
- Produce wearables like Pharaoh's finery and masks
- Decorate funky flowers and lazy lizards
- And much, much more! 

DK is all about inspiring young minds, teaching them new skills and expanding their knowledge, imaginations, and perspectives. Help them to realize their true potentials by adding to your DK collection today.

Awards

Book category winner of the Creative Play Award 2017
Praise For Out of the Box: 25 Cardboard Engineering Projects for Makers…
"Once kids see some of the fun things that they can make out of recycled cardboard, they will be inspired." — Booklist
"With equal emphasis on construction and decoration, it's a book pitched at both sides of a child's brain." — Publishers Weekly
"[S]uch a rich mix of possible applications—from science to literature, math to art, and social studies to engineering…" — School Library Journal
"Out of the Box is sure to become a great work motivator." — The Teacher's Desk 6
"Any parent knows the power of a cardboard box…Jemma Westing has taken that idea, and multiplied it tenfold with Out of the Box, a book full of awesome ideas about how to bring old cardboard boxes to life." — Brightly
DK Children, 9781465458964, 144pp.
Publication Date: April 18, 2017
About the Author
Jemma Westing is an award-winning book designer and paper engineer based in the UK. She has developed a number of innovative interactive books and modeling kits for children. In 2013, Jemma set up a not-for-profit initiative called BrilliantBuilds, which runs free workshops to encourage children to create amazing things with recycled cardboard.