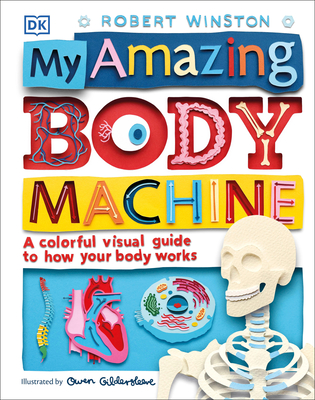 My Amazing Body Machine (Hardcover)
A Colorful Visual Guide to How Your Body Works
DK Children, 9781465461858, 128pp.
Publication Date: May 9, 2017
* Individual store prices may vary.
Description
A unique and exciting visual guide to the human body, with specially commissioned handcrafted illustrations that make this amazing machine accessible and engaging for children.
From the intricately wired brain and structured skeleton to the relentlessly pumping heart and rising and falling lungs, each part of the amazing human body is explored through the incredible paper-crafted artworks of Owen Gildersleeve, making My Amazing Body Machine an appropriate and engaging experience for children. With clear text and fascinating bite-size facts, this visual guide makes learning about the human body fun, and real-life examples show how the parts of the body work together in immediate and ingenious ways.
Supporting STEM education initiatives, My Amazing Body Machine makes understanding the most complex machine on Earth both simple and enjoyable.
About the Author
Illustrator Owen Gildersleeve is an artist based in London who specializes in handcrafted illustration and set design. His illustrations combine multiple-layered paper-cuttings with graphic shapes. His playful and colorful handcrafted creations have won several awards. This is his first book for children.
Praise For My Amazing Body Machine: A Colorful Visual Guide to How Your Body Works…
"[T]his visual guide makes learning about the human body fun" — San Diego Family
"A key contribution to supporting STEM education, My Amazing Body Machine introduces children to the complexity and ingenuity of their own bodies." — The Children's Book Review