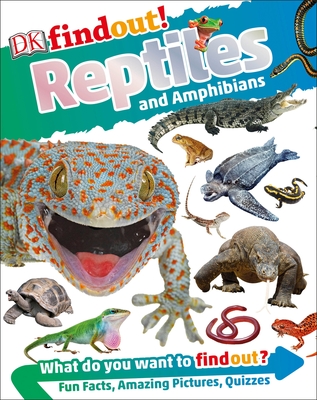 DKfindout! Reptiles and Amphibians (DK findout!) (Paperback)
DK Children, 9781465463104, 64pp.
Publication Date: September 19, 2017
* Individual store prices may vary.
Description
Discover wriggling reptiles, colorful chameleons, and slithering snakes in this children's book full of photographs and illustrations, fascinating facts, and engaging challenges—from the creators of DKfindout.com, DK's free online resource for kids.

Did you know that Komodo dragons can spit venom at their enemies? Or that some big snakes only eat one meal a year? Find out why!

Perfect for young animal lovers who want a highly visual reference book to increase their science smarts, DK findout! Reptiles and Amphibians is sure to inspire the next science-fair project or school report. Inside, author Chris Mattison breaks down what what reptiles and amphibians are and why they're so awesome.

With this DK findout! book, you will:

- Learn to tell the difference between a reptile and an amphibian
- Meet their ancient relatives, such as Pteranodon and Titanoboa
- Zoom in on the scaly skin of crocodiles, alligators, and snakes
- Discover how chameleons and some pythons and frogs change their colors
- See how cold-blooded reptiles are able to survive in extreme environments
- Encounter creatures living in the world's rain forests, oceans, and deserts
- Hear from real-life zoologist Dr. Victoria Larcombe, who studied tree frogs in Belize
- Fold out the cover for a reptile and amphibian quiz questions and family trees
- and find out much, much more!

The DK findout! series of kids books helps children become experts on their favorite nonfiction subjects, from dinosaurs and ancient civilizations to space, coding, and cutting-edge technology. Learn more about reptiles, amphibians, and everything else at www.dkfindout.com, the award-winning free educational website.
About the Author
Author Chris Mattison has been photographing wildlife for over thirty years. He has won the BBC Wildlife Photographer of the Year award, and been a Fellow of the Royal Photographic Society.

Trusted by parents, teachers, librarians, and kids across the world, DK is an award-winning publisher of visual reference books for children, including the DK Eyewitness Books, DK findout!, and Maker Lab series. DK books combine clear photography and illustration with expert text to show you what others only tell you.
Praise For DKfindout! Reptiles and Amphibians (DK findout!)…
"High-interest topics, an abundance of eye-catching photos and visuals, and accessible text are a mainstay of DK titles, and the entries in this DK findout! series are no exception" –Booklist

"Photographs dominate the image-centric layout, augmented by informational bursts and sidebars, quizzes, and interviews… [A]n engaging, accessible format" –Publishers Weekly

"Filled with the beautiful photographs that DK is known for, plus a multitude of facts, prepare to not see your child for a few hours as they pore over these gorgeous books." –Brightly