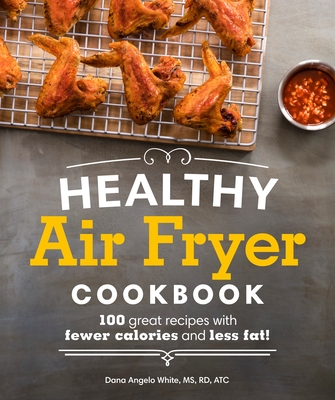 Healthy Air Fryer Cookbook (Paperback)
100 Great Recipes with Fewer Calories and Less Fat
Alpha, 9781465464873, 160pp.
Publication Date: September 12, 2017
* Individual store prices may vary.
Description
Make healthier versions of all your fried favorites--all under 500 calories!

Air frying is fast and convenient, but it's not easy to find air frying recipes that are healthy and delicious. The Healthy Air Fryer Cookbook contains 100 recipes that are absolutely delicious and also better for your health because they use less oil and contain healthier ingredients than traditional fried foods. Included in this book are better-for-you versions of traditional main dishes, breakfasts, sides (like French fries), desserts (like cookies), and more. You'll also learn how to use this versatile appliance to bake, roast, and grill many of your favorite fried foods—with fewer calories.

- Enjoy 100 recipes that are healthier than typical air-fried foods, which can contain too many hidden calories and too much fat.

- Get exact calorie counts and detailed nutrition information to help you stay within the USDA's recommended daily allowances.

- Make healthier versions of traditionally fried favorites, including French Fries, and fried chicken, as well as lighter snacks, such as smoky kale chips and sriracha honey chicken wings.

- Satisfy your sweet tooth with lightened-up treats, including sea salt brownies, apple turnovers, and chocolate lava cakes.

- Fry, bake, grill, and discover how versatile your air fryer is and how you can use it to make virtually anything.


About the Author
Dana White, MS RD ATC, is a registered dietitian and nutrition consultant. Dana is the nutrition expert for FoodNetwork.com, the founding contributor for the website's Healthy Eats blog, and the author of First Bites: Superfoods for Babies and Toddlers.