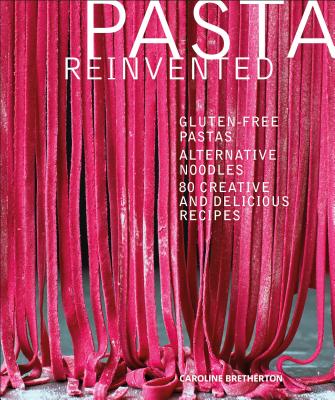 Pasta Reinvented (Paperback)
DK, 9781465469946, 192pp.
Publication Date: February 13, 2018
* Individual store prices may vary.
Description
The only pasta and noodle cookbook focused on healthy alternatives to wheat-based pasta--often gluten-free--and offering recipes for making pasta doughs from scratch, as well as sauces and dishes to enjoy.

Discover a world beyond traditional wheat-based pasta, and enjoy nutrient-packed alternative pastas made from a variety of grains, beans, nuts, and spiralized produce with Pasta Reinvented. Prepare dishes that will highlight--not hide--the flavors of your chickpea pasta, almond flour pappardelle, or shirataki noodles. Learn how to make and shape your own pasta doughs made from alternative flours, or buy ready-made, then exploit their unique flavors with recipes for interesting new taste pairings. Eighty protein- and fiber-packed recipes--many gluten free and vegetarian--offer you a new generation of dishes to go with the latest evolution of pasta and noodles.
About the Author
Caroline Bretherton is a mother of two who knows food and knows families. A love of food resulted in her creating her own catering company and café—Manna Café in London's Notting Hill. She has also presented several food programs and been a contributor to The Times. She is now living in North Carolina, giving her a unique insight into the cuisines of two continents.