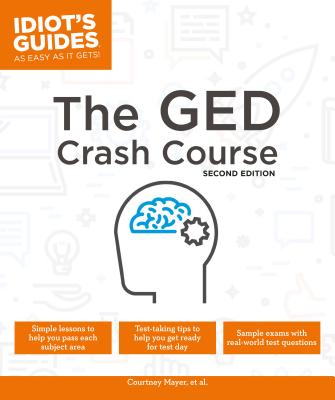 The GED Crash Course, 2E (Idiot's Guides)
Paperback

* Individual store prices may vary.
Description
The next best thing to a personal GED tutor!

Open new doors. That's exactly what earning your high school equivalency credential enables you to do. But the GED isn't a cake walk, and you can't expect to pass it without solid preparation.

Fortunately, that's exactly what this easy-to-use crash course offers--solid preparation in an unintimidating, efficient format. Make the most of your time by learning exactly what you need in each subject area before moving on to the next one. You won't learn how to "beat" the test, but you will quickly gain the knowledge necessary to beat it, including:

• Simple lessons to help you pass each of the four subject areas: math, science, social studies, and language arts
• Easy guidance on how best to approach the computerized format of the test
• Smart advice on helping you sharpen your test-taking skills and making the most of your time on test day
• Sample exams with real-world test questions<
Alpha, 9781465470232, 464pp.
Publication Date: April 10, 2018
About the Author
Del Franz is a social studies educator and former test-prep publishing executive with Peterson's/Nelnet and Kaplan. Phyllis Dutwin has written several language arts and test-prep books, including TABE Test of Adult Basic Education. Richard Ku has taught secondary mathematics for over 25 years and authored several books, including Barron's SAT Subject Test Math Level 2. Kathleen Peno is an associate professor in the School of Education at the University of Rhode Island and has been a GED instructor. Coutney Mayer is a seconddary science teacher and has contributed to several AP test-prep guides.