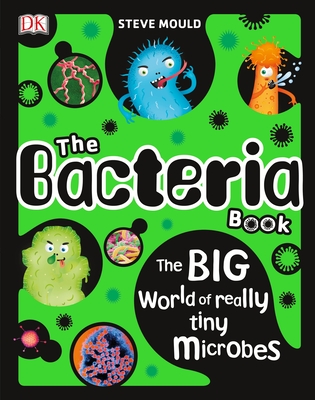 The Bacteria Book
The Big World of Really Tiny Microbes
Hardcover

* Individual store prices may vary.
Other Editions of This Title:
Hardcover, Spanish (3/16/2021)
Hardcover, Chinese (11/4/2019)
Description
In this fun, fact-packed science book for kids, young readers will discover the bacteria, viruses, and other germs and microbes that keep our bodies and our world running, as well as how and when they can be harmful and the precautions we can take to prevent them from becoming so.

Meet a glowing squid, traveling fungus spores, and much more. The Bacteria Book walks the line between "ew, gross!" and "oh, cool!," exploring why we need bacteria and introducing readers to its microbial mates—viruses, fungi, algae, archaea, and protozoa.

The Bacteria Book is a fun and informative introduction to a STEM subject that brings kids up-close to the big world of tiny science. With remarkable photography, kooky character illustrations, and lots of fun facts, this book uses real-life examples of microbiology in action to show how tiny microbes affect us in big ways.
Praise For The Bacteria Book: The Big World of Really Tiny Microbes…
In an overview of "peculiar, pulsating creatures" that are too small to be seen with the naked eye, the appropriately named Mould keeps his eye on the ick factor as he dishes out basic facts about the viruses, bacteria, fungi, protozoa, archaea, and "micro animals" with which we share the planet. He also describes how diseases are caught and spread, explains how our immune system works, and, backed by a closing timeline, covers the development of microbiology and antibiotics.... Memorable insights into the invisible world. (glossary, index) (Nonfiction. 7-10) —Kirkus Reviews

"While Mould definitely promotes the yuck factor, he moderates it with humor...Just watch the grubby fingers reach for this one." —Booklist 

"The Bacteria Book is an expert blend of visual and written information. There are lots of great attention-grabbing photos, with short blocks of text, and sidebars filled with arresting facts...Like all the best non-fiction books, it informs, entertains, and astounds. Highly recommended" —GeekDad.com
DK Children, 9781465470287, 72pp.
Publication Date: May 15, 2018
About the Author
Steve Mould is a science expert and comedian with a physics degree from the University of Oxford. He has a YouTube channel with over 200,000 subscribers, and his videos regularly achieve hits in the hundreds of thousands. One of these videos (about "self-siphoning beads") went viral worldwide, gaining nearly 2 million hits and being mentioned in The New York Times and on the BBC. Scientists later discovered why the beads performed in the mysterious way they did and dubbed it "The Mould Effect." Steve also hosts a radio show on BBC Radio 4 and is part of the live comedy/science trio Festival of the Spoken Nerd. His first book for kids, How to Be a Scientist, is a 2018 ILA-CBC Children's Choices Reading List selection.