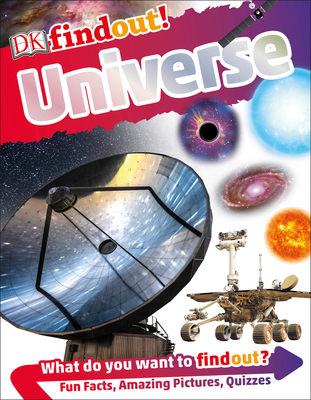 DKfindout! Universe (DK findout!) (Paperback)
DK Children, 9781465470928, 64pp.
Publication Date: September 4, 2018
Other Editions of This Title:
Hardcover (9/4/2018)
* Individual store prices may vary.
Description
Explore stars, galaxies, and our incredible universe with this children's book full of photographs and illustrations, fascinating facts, and engaging challenges—from the creators of DKfindout.com, DK's free online resource for kids.

Did you know that it takes 240 million years for the sun to make one orbit around the Milky Way? Or that astronauts learn what it feels like in space by training underwater? Find out why!

Perfect for all young Earthlings who want a highly visual STEM book to increase their space know-how, DK findout! Universe is sure to inspire the next amazing science fair project or school report. Inside, author Giles Sparrow breaks down the universe and our place in it.

With this DK findout! book, you will:

- See meteors, comets, asteroids, and the eight planets of our solar system
- Learn how astronomers measure cosmic distances using light-years
- Read about amazing astronauts, such as Buzz Aldrin and Neil Armstrong
- Discover how people have tried to contact aliens over the years using space probes, satellite dishes, and radio signals
- Explore night-sky star constellations like Cassiopeia, Centaurus, and Ursa Major
- Hear from real-life expert Suzanna Randall what it's like to be an astronomer today
- Fold out the cover for a quiz, stargazing guide, and information about space careers
- and find out much, much more!

The DK findout! series of kids books helps children become experts on their favorite nonfiction subjects, from dinosaurs and ancient civilizations to space, coding, and cutting-edge technology. Learn more about space—and everything else—at www.dkfindout.com, the award-winning free educational website.
About the Author
Author Giles Sparrow is a freelance author and editor specializing in astronomy and physics. He has written dozens of nonfiction books for children and teens.

Consultant Jerry Stone is a presenter on astronomy and space exploration. He regularly conducts space workshops at schools and has appeared at the Edinburgh Festival, The Palace of Westminster, the World Science Fiction Convention, Oxford University, and the Mars Society conference in Colorado.

Trusted by parents, teachers, librarians, and kids across the world, DK is an award-winning publisher of visual reference books for children, including the DK Eyewitness Books, DK findout!, and Maker Lab series. DK books combine clear photography and illustration with expert text to show you what others only tell you.
Praise For DKfindout! Universe (DK findout!)…
"High-interest topics, an abundance of eye-catching photos and visuals, and accessible text are a mainstay of DK titles, and the entries in this DK findout! series are no exception" –Booklist

"Photographs dominate the image-centric layout, augmented by informational bursts and sidebars, quizzes, and interviews… [A]n engaging, accessible format" –Publishers Weekly

"Filled with the beautiful photographs that DK is known for, plus a multitude of facts, prepare to not see your child for a few hours as they pore over these gorgeous books." –Brightly