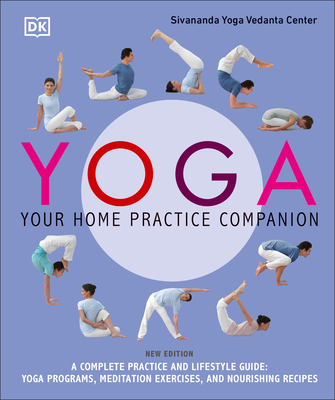 Yoga (Paperback)
Your Home Practice Companion: A Complete Practice and Lifestyle Guide: Yoga Programs, Meditation Exercises, and Nourishing Recipes
DK, 9781465473189, 256pp.
Publication Date: April 3, 2018
* Individual store prices may vary.
Description
Achieve a healthy body, mental alertness, and inner serenity through the practice of hatha yoga.

Yoga: Your Home Practice Companion teaches you how to master breathing and mindfulness techniques to combat stress and recharge your energy.

Combining step-by-step asanas, detailed anatomical illustrations, programs, mindfulness techniques, plant-based diet advice, and recipes, this is the complete practice and lifestyle guide for students of all abilities. Make your way through the 12 classic asanas, then continue your practice with 9 programs of 20-, 40-, or 60-minute sequences for beginner, intermediate, and advanced students. Yoga: Your Home Practice Companion also features common mistakes people make when performing a pose.

Alongside these programs, embrace a healthier more yogic way of eating with more than 40 nutritious plant-based recipes. Written by the experts from the world-renowned Sivananda Yoga Vedana Centres, Yoga: Your Home Practice Companion has everything you need in one complete package.
About the Author
The Sivanada Yoga Vedanta Centre was established in 1957 by Swami Vishnudevanada (1927–1993). This nonprofit organization with locations around the world is dedicated to the teaching of classical yoga and vedanta philosophy as a way to promote physical, mental, and spiritual health. As part of a global network of ashrams and centres, yoga teachers guide their students in developing an integral practice of yoga and meditation. More than 25,000 yoga teachers have graduated from the international Sivanada teachers' training courses since 1969.