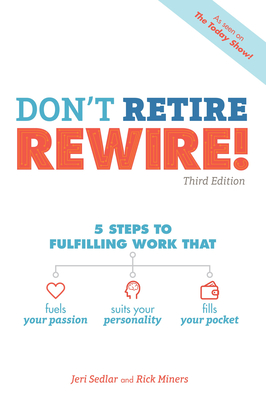 Don't Retire, REWIRE!, 3E (Paperback)
5 Steps to Fulfilling Work That Fuels Your Passion, Suits Your Personality, and
Alpha, 9781465473547, 288pp.
Publication Date: August 7, 2018
* Individual store prices may vary.
Description
It's time to rethink retirement!

Working past "normal" retirement age is one of the fastest growing trends in America. Today's Boomers don't want to slow down, and many of them can't afford to! They want meaningful work that fuels their passion, suits their personality, and fills their pockets. In a word, they want to REWIRE! 

Don't Retire, REWIRE! Third Edition helps those new to retirement, and those approaching it, channel their energy and experience into new possibilities that can be financially and personally rewarding--whether it's a part-time job, volunteer work, or even a next career. 

Inside you'll find lots of practical advice and plenty of real-life stories from retirees who have successfully made the transition. You'll discover the motivational drivers you never knew you had, then you'll learn how to use them to achieve a fun, purposeful, and financially-sound future--at work or at play!
About the Author
Jeri Sedlar and Rick Miners, husband and wife, have 25+ years of experience working in the areas of personal and professional transition. Their backgrounds include executive search and outplacement, plus Jeri is the former Editor at Large of Working Woman magazine and currently Senior Advisor to The Conference Board on the Mature Workforce. Rick is the cofounder of Flexcorp Systems, a business process outsourcing company, which was named by INC. magazine as one of the fastest-growing 500 privately held companies in the US in 2005. The company, which was number 119, was sold in 2006.