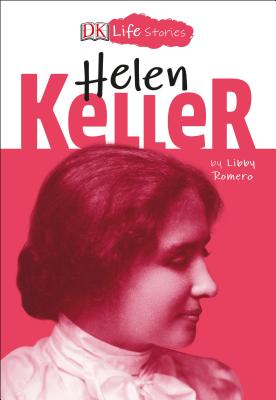 DK Life Stories (Hardcover)
Helen Keller
DK Children, 9781465475442, 128pp.
Publication Date: January 8, 2019
Other Editions of This Title:
Paperback (1/8/2019)
* Individual store prices may vary.
Description
In this kids' biography, discover the inspiring story of Helen Keller, who overcame the odds by learning to understand and communicate with the world.

Helen Keller lost her sight and hearing due to an early childhood illness and spent the first six years of her life unable to interact with other people. She remained isolated from the outside world until Anne Sullivan came to work as her teacher. In this biography for kids ages 8-12, learn all about Helen Keller's amazing life and achievements--how she learned to read Braille and speak, go to college, write books, and ultimately revolutionize the world through her activism on behalf of the deaf and blind.

DK Life Stories go beyond the basic facts to tell the true life stories of history's most interesting people. Full-color photographs and hand-drawn illustrations complement thoughtfully written, age-appropriate text to create an engaging book children will enjoy reading. Definition boxes, information sidebars, fun facts, maps, inspiring quotes, and other nonfiction text features add depth, and a handy reference section at the back makes this series perfect for school reports and projects. Each book also includes an author's introduction letter, a glossary, and an index.
About the Author
Author Libby Romero was a journalist and a teacher before becoming an author. She has written dozens of books, including the biography Ibn al-Haytham: The Man Who Discovered How We See, as well as teacher guides, interactive whiteboards, and a variety of other materials, including National Geographic's Explorer magazines and the Smithsonian Institution's TweenTribune.

Literacy consultant Stephanie Laird is an instructional coach at Mitchellville Elementary in Mitchellville, Iowa, and is currently serving on the International Literacy Association's (ILA) Board of Directors through 2019. She was the 2014 recipient of the ILA Technology and Literacy Award. Stephanie is the President-Elect of the Iowa Reading Association and was the 2017 Conference Chair of the Iowa Reading Association's annual conference. Along with being an ambassador and advocate for education, literacy, and teacher leadership across her state, Stephanie was a member of ILA's Literacy, eLearning, Communication, and Culture Committee and has contributed to the International Literacy Day Activity Kit, Literacy Daily, and ReadWriteThink.