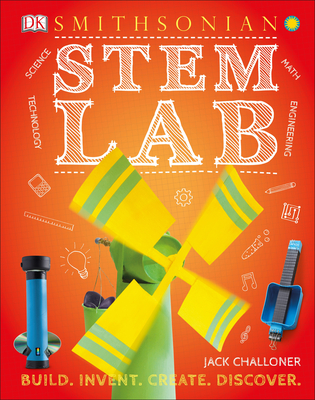 STEM Lab (Maker Lab) (Hardcover)
DK Children, 9781465475619, 160pp.
Publication Date: January 29, 2019
* Individual store prices may vary.
Description
Explore and discover how science, technology, engineering, and maths shape the world around us with 25 hands-on experiments for curious kids.

From racing wind-up cars and building a sturdy sandcastle to creating a wave machine and making music with a homemade guitar, STEM Lab is packed with 25 exciting STEM (Science, Technology, Engineering, and Maths) activities. Why do rafts float? How do bridges stay upright? How do seals stay warm? And how can you make a ball levitate? Each activity in the book has its own "How it works" section uncovering core STEM ideas to help young readers discover the fascinating answers for themselves.

Simple, easy-to-follow, photographic steps guide young readers through each experiment, along with essential tips and engaging STEM facts. "Test and tweak" boxes encourage readers to take their projects to the next level, while "Real world" stories show how STEM ideas make up our modern, everyday world.

Perfect for firing up kids' imaginations, for homework help and for rainy day projects, STEM Lab will excite and inspire curious young minds.
About the Author
Jack Challoner has written more than 30 books on science and technology, and also acts as a science consultant for books, magazines, and television. His most recent book for DK is Maker Lab (2016), which was shortlisted for the RNS Young People's Book Prize.
Praise For STEM Lab (Maker Lab)…
"Between the crisp, colorful presentation and the interactive, kid-friendly projects... young makers will be sucked into STEM-filled learning fun, whether in the classroom or at home." —Booklist