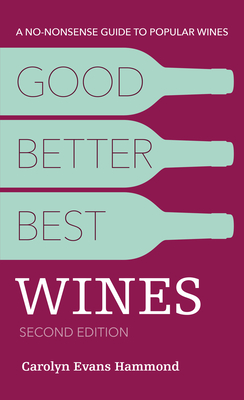 Good, Better, Best Wines, 2nd Edition (Paperback)
A No-nonsense Guide to Popular Wines
Alpha, 9781465476661, 256pp.
Publication Date: November 13, 2018
* Individual store prices may vary.
Description
Drink up this snobbery-free guide to quickly finding which wines are worth your money.
 
Buying a popular wine should be simple, not pretentious and expensive. In this completely revised second edition, wine expert Carolyn Evans Hammond compares the bestselling wines in North America by price (up to $15) in many wine styles, including Chardonnay, Pinot Grigio, Sauvignon Blanc, Cabernet Sauvignon, Merlot, and Pinot Noir. The listings reveal the distinct smell, flavor, and texture for each wine as well as the alcohol content by volume to help you choose the right wine for you.
 
Whether you're rushing to find the right wine for a summertime backyard BBQ, New Year's Eve celebration, or a dinner party or you're planning the wine choices for an upcoming wedding or other fancy soirée, this book gives you everything you need to know to make the perfect selection. Every bottle or box of wine is shown in vivid color, and because this guide is also small enough to pop in your pocket and take with you anywhere, you can easily find the wines that suit whatever occasion calls for wine. In this way, this book can also help you look like a wine expert at any event you host. You'll never make a bad wine choice again and you'll never spend more than you want—all thanks to this guide and Carolyn's extraordinary wine knowledge.
 

"They're big, they're out there, but they're not all the same. This book cuts a sure course through the ocean of popular wines. Carolyn's enthusiasm and stylistic panache tells you what you need to know—and fast." — Andrew Jefford, columnist for Decanter and chairman of the 2018 Decanter World Wine Awards
About the Author
Carolyn Evans Hammond is a two-time bestselling wine book author, the wine columnist for the Toronto Star (syndicated), and a seasoned wine judge.

Over the past 15 years, she has appeared on CNN International, BON TV (China), GoingGlobalTV.com, Canada AM, and CITY-TV; she has been a guest on radio stations all over the United States; and she has written for top publications, including Decanter, Wine Spectator, Wine & Spirit International, The Times (London), Maclean's, Quench, Taste magazine, and others.

Constantly learning, Carolyn spends much of her time tasting wine, judging wine, and meeting with winemakers to keep abreast of the industry. She's a longstanding member of the Circle of Wine Writers, holds a diploma from the Wine & Spirit Education Trust in the UK, and earned a BA from York University, where she studied English and philosophy. She has lived in many cities in North America and Europe and now resides in Toronto, where she was born.

Her message is simple: Living well doesn't have to be pricey or pretentious. It just takes a little know-how—and maybe a corkscrew.
Praise For Good, Better, Best Wines, 2nd Edition: A No-nonsense Guide to Popular Wines…
"Carolyn Evans Hammond has crafted the second edition of her wine book, Good, Better, Best Wines, which should be essential reading for those who care about the fermented grape—and, more importantly, those who care about getting the best value for the buck. Apart from her intelligent analysis of wine in layman's terms, Carolyn offers tips and quirky side trips into the weird and wonderful world of wine."
— Tony Aspler, award-winning wine columnist

"This is an essential book for anyone seeking great value on the wine shelf. If you're looking to discover new wines, along with some handy tips and advice, this is an essential guide. Carolyn's picks are right on the money (pun intended), and she makes shopping for wine easy and fun."
— Dick Snyder, wine writer for Drink Toronto
 
"Carolyn Hammond has written a beautifully concise and easy to understand review of the 120 top wines sold in the United States. Without being verbose, her descriptions are a pleasure to read, with honest charm yet straight to the point and not hidden behind florid and pretentious language. Her book is well organized by grape variety into three comparative price points up to $15 per bottle and should now be considered a must when buying the big-name and popular brands that sell the most. An indispensable wine bible!"
— Fred Lamprecht, sommelier and president Lamprecht International