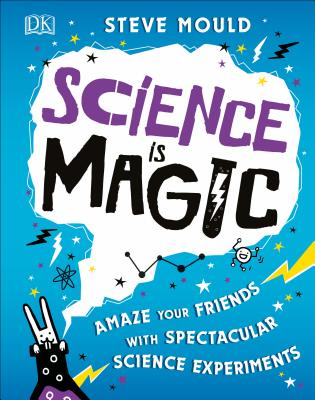 Science is Magic (Hardcover)
Amaze your Friends with Spectacular Science Experiments
DK Children, 9781465478801, 96pp.
Publication Date: March 5, 2019
* Individual store prices may vary.
Description
Discover the astounding science behind illusions and magic tricks in this book for kids ages 7-9.

Join comedian and author Steve Mould to find out the scientific secrets behind amazing magic tricks. Learn how to bend water with a balloon, how to create ghosts with mirrors, and how to turn water into juice! Packed with optical illusions, pranks, and fun facts, this book is a must-have for any aspiring scientist or magician. (And the two aren't as different as you might think!)

Kids will love impressing their friends and families with simple magic tricks that teach them valuable science lessons at the same time. Each trick is explained using step-by-step photography, and the science behind each magic trick is explained clearly and simply. Interspersed throughout the book are profiles of famous magicians and illusionists, such as Harry Houdini and David Blaine, and stories of how they used science when performing their most famous tricks.

Science is Magic is the perfect addition to any classroom or library STEAM or STEM bookshelves.
About the Author
Steve Mould is a science expert and comedian with a physics degree from the University of Oxford. He has a YouTube channel with over 200,000 subscribers, and his videos regularly achieve hits in the hundreds of thousands. One of these videos (about "self-siphoning beads") went viral worldwide, gaining nearly 2 million hits and being mentioned in The New York Times and on the BBC. Scientists later discovered why the beads performed in the mysterious way they did and dubbed it "The Mould Effect." Steve also hosts a radio show on BBC Radio 4 and is part of the live comedy/science trio Festival of the Spoken Nerd.

Steve's previous books for kids include How to Be a Scientist (a 2018 ILA-CBC Children's Choices Reading List selection) and The Bacteria Book.