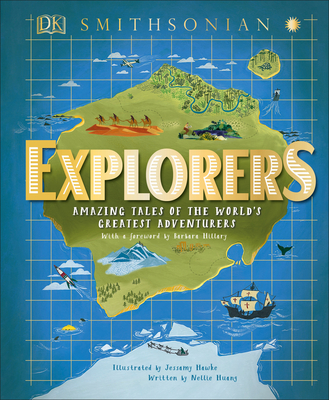 Explorers (Hardcover)
Amazing Tales of the World's Greatest Adventures
DK Children, 9781465481573, 144pp.
Publication Date: September 3, 2019
* Individual store prices may vary.
Description
Live and see the world through the eyes of 50 of the world's greatest explorers and their trusty companions!

This book for kids is brimming with first-person accounts of gripping adventures in explorers' own words. Find exciting tales complemented by rare maps, specially commissioned photographs, and artworks that re-create history's greatest expeditions. Get ready to take a leap into the unknown…


An adventure book that will surely rival even the most thrilling adventure movies! You'll meet some of the most famous explorers and adventurers of all time in this exciting non-fiction storybook for children. 

Great explorers have one thing in common - a desire to leap into the unknown, no matter the dangers it presents. This book will take you through Ferdinand Magellan's first circumnavigation of the world 500 years ago to Barbara Hillary's treks to the North and South poles while in her seventies, and beyond. This knowledge book documents the stories of men and women who rewrote our understanding of the world and inspired us by pushing the boundaries of human capability.

A kid's educational book that looks at the towering achievements of more than 50 explorers from all walks of life in great detail. See sensational cross-sections revealing the amazing detail inside Spanish galleons, lost cities, and spaceships. Magnificent photographs highlight the artifacts and relics they found along the way, while hand-drawn maps reveal their intrepid journeys in such detail, you feel as though you could be walking in their very footsteps. 

It is a glorious introduction to history's most famous trailblazers - people whose courage opened frontiers turned voids into maps, forged nations, connected cultures, and added to humankind's knowledge of the world by leaps and bounds. Packed with jaw-dropping fun facts about the world and written so beautifully it will get your heart racing. Explorers is the perfect kid's book for any young mind with an avid sense of adventure! 

Explore Unknown Waters – Take To The Skies – Investigate Our Planet!

For centuries, explorers have been unable to resist the secrets of the sea. We have looked toward the skies and stars since the beginning of time. Through dense jungles, dry desserts, and frozen mountains we have pushed the very limits of human endurance in the name of exploration and adventure! 

These tales are not for the faint of heart - these adventurers faced challenges that threatened their very survival! Their courage has allowed us to collect a wealth of knowledge about our awe-inspiring universe.

Set sail to faraway frozen lands, defy gravity and take to the skies, and investigate our planet through the stories of those who came before us. Happy exploring!

Learn about the explorers who defied the so-called possibilities of their time in: 

- Sea & Ice
- Air & Space
- And Land
About the Author
DK was founded in London in 1974 and is now the world's leading illustrated reference publisher and part of Penguin Random House, formed on July 1, 2013. DK publishes highly visual, photographic nonfiction for adults and children. DK produces content for consumers in over 87 countries and in 62 languages, with offices in Delhi, London, Melbourne, Munich, New York, and Toronto. DK's aim is to inform, enrich, and entertain readers of all ages, and everything DK publishes, whether print or digital, embodies the unique DK design approach. DK brings unrivalled clarity to a wide range of topics with a unique combination of words and pictures, put together to spectacular effect. We have a reputation for innovation in design for both print and digital products.   Our adult range spans travel, including the award-winning DK Eyewitness Travel Guides, history, science, nature, sport, gardening, cookery, and parenting. DK's extensive children's list showcases a fantastic store of information for children, toddlers, and babies. DK covers everything from animals and the human body, to homework help and craft activities, together with an impressive list of licensing titles, including the bestselling LEGO® books. DK acts as the parent company for Alpha Books, publisher of the Idiot's Guides series and Prima Games, video gaming publishers, as well as the award-winning travel publisher, Rough Guides.