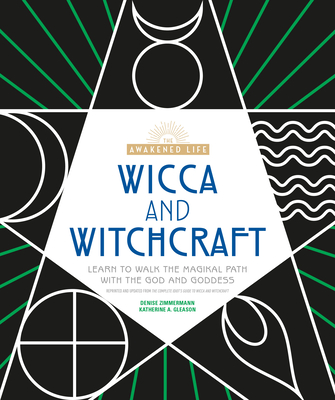 Wicca and Witchcraft (Paperback)
Learn to Walk the Magikal Path with the God and Goddess (The Awakened Life)
Alpha, 9781465483713, 336pp.
Publication Date: June 11, 2019
* Individual store prices may vary.
Description
Awaken your life with the God and Goddess and discover the magick of the Wiccan way

Get ready to take a journey to a mystical place where anything can happen--an adventure into the realm of witchcraft, magick, and empowerment. This is a place where the wonderment and purity of childhood meet with the spiritual growth and wisdom of the adult world.

The Awakened Life: Wicca and Witchcraft teaches you how to look inside yourself and let the God and Goddess empower you with spirituality, knowledge, and self-esteem, and help you appreciate the profound beauty of living in tune with nature. Along your path, you'll learn about the many types of witches, traditions, and dieties of the Craft. You'll learn about the magickal tools and objects and how to use them. And you'll learn how to cast spells with notions, potions, powders and more... So hop on your broom, hold on tight, and prepare to fly!
About the Author
Denise Zimmermann is a practicing witch and the former co-owner of a metaphysical book and gift store in Baltimore, Maryland. She is a Third Degree High Priestess with the Black Forest Clan, and she has been featured on the front page of the Baltimore Sun's Lifestyles section as well as other periodicals. She teaches courses on Wicca and other esoteric arts.