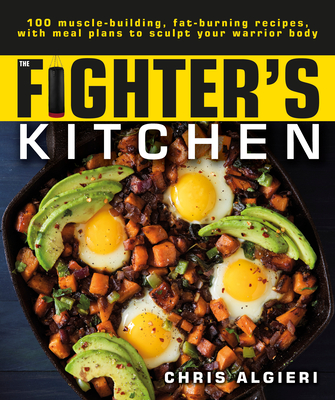 The Fighter's Kitchen (Paperback)
100 Muscle-Building, Fat Burning Recipes, with Meal Plans to Sculpt Your Warrior
Alpha, 9781465483737, 160pp.
Publication Date: June 4, 2019
* Individual store prices may vary.
Description
100 muscle-building, fat-burning recipes, with meal plans to sculpt your warrior body

Ever wonder how professional MMA fighters in the UFC prepare their bodies for fights? The real training often starts in the kitchen, where the right meals at the right times can give fighters everything they need to be ready for their next match.

Fighters fuel their bodies with precise nutrients delivered at specific times to achieve their functional physiques--and now you can too. The Fighter's Kitchen provides expert guidance on what and when to eat, and it helps you understand how our bodies use what we eat to burn fat and build lean, strong muscle. Through phased weekly meal plans, expert insight on how and when to take full advantage of your body's muscle-building capabilities, and 100 delicious recipes, you'll find yourself looking ring ready even if you have no plans to step into one.


----------


"Chris has been my in-camp nutritionist for two-plus years and has worked with me for five training camps in a row. With his help and cooking skills, I've been able to train harder and make weight easier. I was instantly amazed with how much food I was able to eat and still lose weight. Many of the recipes in this book are not only healthy, but they also look and taste great!"
— Daniel Jacobs, current IBF world middleweight boxing champion and former WBA world middleweight boxing champion
 
"This book helped me lean up and perform better during training and competition without feeling like I'm on a diet or having cravings. The recipes Chris give you are simple, delicious, and nutritious. It's an easy-to-follow lifestyle and the results have been amazing for me—and they'll be tremendous for you."
— Aung La Nsang, professional MMA fighter and current ONE world middleweight champion and ONE world light heavyweight champion
 
"Chris Algieri is one of the biggest and most fit boxers at his weight class and is a world champion. He makes me confident that not only will I make weight, but I will also perform at my peak performance. He made specific adjustments for my body type and has a great understanding of individual needs. This book will be a great resource for anybody."
— Dennis Bermudez, retired UFC fighter
 
"Chris has helped me with my diet for my entire 10-year career in mixed martial arts. He has helped with my day-to-day nutrition in and out of fight camps, my weight-cut protocol, and my rehydration program for after weigh-ins, which to me are the most important. Chris doesn't only tell you what to eat and when to eat it, but he also breaks down how every person's body is different and reacts to certain foods different and he explains why I should eat certain foods and why eating them at a specific time is so important. Having him on my team absolutely gave me a tremendous advantage over my competition. I wouldn't trust anyone else with my diet."
— Ryan LaFlare, retired UFC fighter
 
"I've been an athlete my entire life, but nutrition has always overwhelmed me. We live in a culture of fad diets. Consumers are taught to believe you need to starve in order to lose weight. As a result, the public, like me, gets overwhelmed and discouraged. We tend to starve ourselves to lose weight, and when we can't take it anymore, we binge. Chris's book has made it finally possible for me to break that cycle. I realize eating healthy doesn't mean I have to be hungry. It doesn't have to be boring. Not only do I notice a difference in my physical appearance, but the difference in my mood is also amazing. I can think clearer and feel generally happier just by finally finding a way to maintain healthy eating habits. I think this book serves value to not only those competing but also to anyone looking to make positive changes in their health!"
— Sarah Thomas, 2018 New York Golden Gloves winner
 
"Having known Chris and seeing the way he eats for a few years now, I've seen with my own eyes the superhuman capabilities it gives someone when they get their nutrition on point. I absolutely love that he's not only finally sharing a taste of his secret recipes but also a ton of educational content so one can make it relevant to their own lifestyle and delivered using a system that seems very simple to implement."
— Avril Mathie, professional boxer and Miss Swimsuit USA International 2015
 
About the Author
Chris Algieri is a former World Boxing Organization (WBO) junior welterweight boxing champion, ISKA world welterweight kickboxing champion, and WKA world super welterweight world kickboxing champion with more than 13 years of professional fighting experience. He has a bachelor's degree in health care management from Stony Brook University and a master's degree in clinical nutrition from the New York Institute of Technology.

Chris is also a certified sports nutritionist through International Society of Sport Nutrition. He's spoken on topics related to human performance and nutrition at various sports performance conferences, seminars, and summits. Across Instagram, Twitter, and Facebook, he has more than 125,000 followers, and he sometimes posts recipes and cooking tips.

Chris is currently the head performance nutrition coach at Stony Brook, where he's worked with 500 Division I athletes in 16 different sports on a daily basis. He hasn't hung up his boxing gloves just yet, but until his next fight, he helps fighters with their nutritional needs before their next competition.
Praise For The Fighter's Kitchen: 100 Muscle-Building, Fat Burning Recipes, with Meal Plans to Sculpt Your Warrior…
"The Fighter's Kitchen is a must-read for anyone looking for the tools they need to look and feel better. Chris shows you how to make healthy food taste incredible and the recipes are detailed and easy to apply immediately. Whether your goal is to manage your weight or increase your performance, there is a plan in here that will fit your goals. Chris's rare combination of education and practical experience as an athlete and nutritionist separates The Fighter's Kitchen from all other nutrition books I've come across."
— George J. Greene III, assistant athletics director for athletic performance at Stony Brook University
 
"World champion Chris Algeri, now 'knocking out' amazing nutritious tasty meals! Just as Chris used his skills and knowledge to earn a world title, he now uses his experience and advanced degree in clinical nutrition to help others achieve a world champion, healthy lifestyle!" 
— Michael Camp, doctor of physical therapy and certified strength and conditioning specialist
 
"Having dedicated my life for 33 years to human performance and sports nutrition, I can state unequivocally that Chris Algieri is the best practitioners of nutrition I've known. In The Fighter's Kitchen, Chris combines his incredible knowledge of nutrition science with an assiduous practice of perfect eating and a love for preparing the world's healthiest foods with wonderful flavor. I spent one week alongside Chris in fight camp. Eating as he did, my body changed more in a week than I had managed in a lifetime of practice. Enjoy this great book with highly applicable nutritional practices—those largely responsible for making him a world champion."
— Tony Ricci, professor of exercise physiology and nutrition at Long Island University 
 
"I've been waiting for Chris to release The Fighter's Kitchen, as it's a staple for keeping our fighters fit year-round. This book is filled with delicious, easy-to-prepare meals that keep our fighters fueled in the gym and out. Whether you're training for a fight or just trying to live a healthier life, The Fighter's Kitchen is guaranteed to knock out your hunger and help you hit your goals."
— Corey Peacock, associate professor of exercise and sport science at Nova Southeastern University