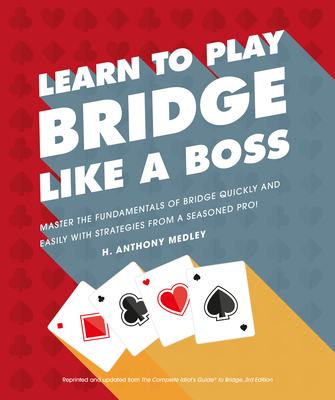 Learn to Play Bridge Like a Boss (Paperback)
Master the Fundamentals of Bridge Quickly and Easily with Strategies From a Seas
Alpha, 9781465483805, 400pp.
Publication Date: September 17, 2019
* Individual store prices may vary.
Description
Play like a pro with expert knowledge from a champion of the game

If you don't know the ins and outs of play, bridge can seem like an intimidating game--but it doesn't have to be! Armed with the techniques and strategies in the pages of this book, you'll be bidding and winning hands like a boss!

Follow the guidance and knowledge of a pro as he takes you through the basics of the game. You'll get lessons on making opening bids, evaluating your hand, responding to your partner's bid, rebidding, and overcalling--and even a bonus tear-out sheet to take your new strategies on the go!
About the Author
H. Anthony Medley holds the rank of Silver life Master, is an American Contract Bridge League Club Director, and has won regional and sectional titles. An attorney, he received his B.S. from UCLA, where he was sports editor of UCLA's Daily Bruin, and his J.D. from the University of Virginia School of Law. He is the author of UCLA Basketball: The Real Story and Sweaty Palms: The Neglected Art of Being Interviewed. He was a columnist for the Southern California Bridge News. He is an MPAA-certified film critic and his work has appeared nationally in Good Housekeeping, The Los Angeles Times, Los Angeles Magazine, The Hollywood Reporter, and other publications.