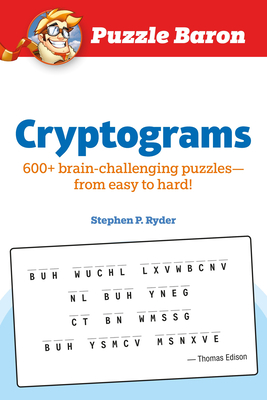 Puzzle Baron Cryptograms (Paperback)
100 Brain-Challenging Puzzles--From Easy to Hard!
Alpha, 9781465483829, 288pp.
Publication Date: July 9, 2019
* Individual store prices may vary.
Description
Enhance your brain power with hours of encryption-solving fun

The Puzzle Baron returns with yet another entertaining take on a classic puzzle type: cryptograms. You're given encrypted quotations from people of all walks of life to decipher by using letter substitution, but the encryption key changes for every puzzle. You'll enjoy hours of solving these profound, funny, and sometimes bizarre cryptograms.
About the Author
Stephen P. Ryder is the founder and editor of the Puzzle Baron network of websites (PuzzleBaron.com). These sites focus primarily on textual games and puzzles, including acrostics, cryptograms, logic puzzles, drop quotes, sudoku, patchwords, and many more. The Puzzle Baron network serves more than six million visitors annually, along with an extremely dedicated userbase of more than 50,000 registered players who compete against each other for record scores and times. Stephen has published several puzzle books with Alpha, including the bestselling Puzzle Baron's Logic Puzzles.