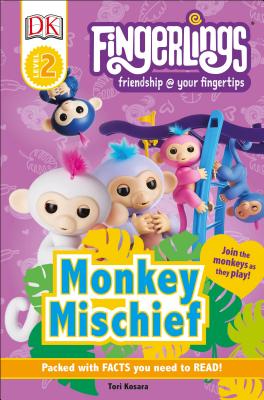 DK Readers Level 2
Fingerlings: Monkey Mischief
Hardcover

* Individual store prices may vary.
Other Editions of This Title:
Paperback (3/19/2019)
Paperback (12/24/2018)
Paperback (2/19/2019)
Paperback (3/5/2019)
Hardcover (3/19/2019)
Hardcover (2/19/2019)
Description
Monkey mischief is afoot in this new Fingerlings adventure.

Join the Fingerlings monkeys as they get up to mischief in Melody Village. Read about Boris the energetic monkey who loves to play the drums, his sister Bella the keen gymnast, and all their fun-loving monkey friends. Find out how the Glitter Girls get the party started and how the monkeys play with the other cute animals of Melody Village.

DK's reading scheme is levelled into stages to help every child progress and become a confident reader. This Level 2 book is illustrated with photography of the adorable Fingerlings toys, and is a delightful introduction to these cute characters and their world.

Presented with vibrant images, simple vocabulary, and lots of word repetition to engage young readers and help them build their literary skills, Monkey Mischief is a fun read for any young fan of the exciting world of the Fingerlings.

Fingerlings® and all product names, designations and logos are trademarks of WowWee Group Limited.
Copyright 2016-2018 WowWee Group Limited. All rights reserved.
DK Children, 9781465484390, 48pp.
Publication Date: April 9, 2019
About the Author
Tori Kosara is a senior editor at DK who has contributed to several titles for the imprint. She is the author of DK Readers: L3: Star Wars: The Story of Darth Vader and DK Readers: L3: Star Wars: Star Pilot. You can follow her at @Torikosara.