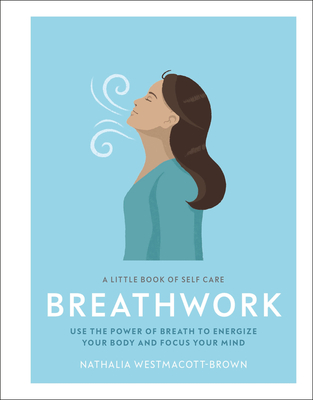 A Little Book of Self Care (Hardcover)
Breathwork
DK, 9781465485052, 144pp.
Publication Date: September 10, 2019
Other Editions of This Title:
Hardcover (9/10/2019)
* Individual store prices may vary.
Description
Use the power of breath to energize your body and focus your mind

New science now confirms what traditional practitioners have known for centuries - that breathing mindfully can be key to achieving spiritual, emotional, and physical wellbeing. Breathwork offers 50 simple, step-by-step breath practices and visualizations you can do at home to balance body and mind, access inner wisdom, overcome anxiety, anger or insomnia, alleviate pain and depression, nurture self-esteem and more.

Internationally renowned author and teacher Nathalia Westmacott-Brown draws a range of simple, safe, and transformational routines from a wide variety of traditions and modalities, including conscious connected breathing, pranayama, holographic breathwork, and qigong. Follow her guidance on the benefits of each exercise, how to position your body, the speed and depth of breaths, how long to spend, and how often to practise.

With Breathwork, you will discover how breathing with purpose and control can help you to heal - and become the healthiest and happiest you can be.
About the Author
Nathalia Westmacott-Brown is the founder of First-Breath, which runs sessions, workshops, and training programs on all aspects of breathwork--with an integrative and multifaceted approach. She has served on the committee of the British Rebirth Society, the UK organization for professional standards, and has trained globally with key breathwork mentors, including in Russia and India. In 2005, she established the Breathwork Training Program, an intensive course for those wishing to qualify as breathwork practitioners in the UK. She is based in the Cotswolds, UK.