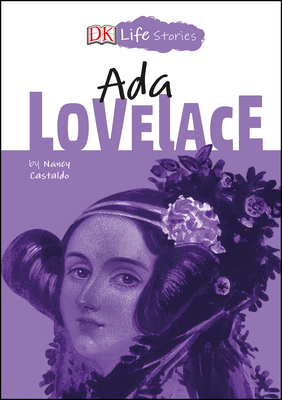 DK Life Stories
Ada Lovelace
Paperback

* Individual store prices may vary.
Description
In this kids' biography, discover the inspiring story of Ada Lovelace, who wrote the world's first computer program.

In 1833, Ada Lovelace met mathematician Charles Babbage, inventor of calculating machines. She went on to devise a way of inputting data into Babbage's Analytical Machine, and in doing so became the first-ever computer programmer. In this kids' biography book for 8-11 year olds, learn all about Ada Lovelace's fascinating life, including her famous father (celebrated poet Lord Byron), her talent for languages and mathematics, and her predictions for how computers could change our lives.

This new biography series from DK goes beyond the basic facts to tell the true life stories of history's most interesting people. Full-colour photographs and hand-drawn illustrations complement thoughtfully written, age-appropriate text to create an engaging book children will enjoy reading. Definition boxes, information sidebars, maps, inspiring quotes, and other nonfiction text features add depth, and a handy reference section at the back makes this the one biography series every teacher and librarian will want to collect. Each book also includes an author's introduction letter, a glossary, and an index.
DK Children, 9781465485403, 128pp.
Publication Date: October 1, 2019
About the Author
Nancy Castaldo has written children's books for over 20 years. Her research has taken her all over the world, from the Galápagos to Russia, and she loves sharing her adventures with her readers. She has conducted programs at the Boston Children's Museum, Atlanta Zoo, and Tennessee Aquarium, among others and has spoken at the Science Teachers Association of New York State, NCTE, Texas Library Association, and New England Society of Children's Book Writers & Illustrators.

Many of Nancy's books have received recognitions, including an American Bookseller Pick of the Lists, a Smithsonian Notable Book For Children, a NSTA Outstanding Science Trade title, Crystal Kite Awards, Green Earth Book Award, and Junior Library Guild Selections. In addition to these accolades, she was honored to be the recipient of the 2007 New York State Outdoor Education Association's Art and Literature Award for the body of her work.