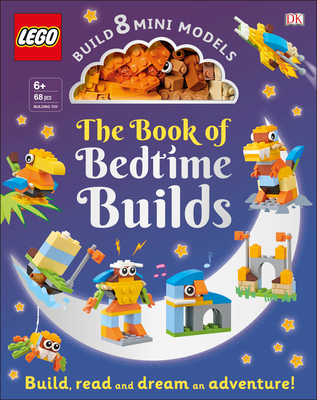 The LEGO Book of Bedtime Builds (Mixed media product)
With Bricks to Build 8 Mini Models
DK Children, 9781465485762, 48pp.
Publication Date: October 8, 2019
* Individual store prices may vary.
Description
Read, play, and dream an adventure

Help your kids build their way to a better night's sleep!

A relaxing bedtime routine with quiet, screen-free activities--like building with LEGO bricks--and stories is recommended by Pediatricians to help children sleep better. "Calming activities and stories before bed can help your child get a good night's sleep." -- Lauren Hale, PhD, sleep expert

This book includes eight adventures to build, play, and read to help kids wind down before bed and let you spend quality time together.

To get started, choose and build one of the LEGO models from The LEGO® Book of Bedtime Builds. Then read the story together. When it's time to sleep, the mini model and story will inspire exciting dreams. The next night, take apart the mini model and choose another adventure to build and read together.

Convenient brick storage and packaging make for easy building at home or on the go. Includes easy-to-follow building instructions and bricks. Stories feature a pirate ship, dinosaur, robot, bird, castle, elephant, spider, and spaceship.

©2019 The LEGO Group.
About the Author
Tori Kosara is a senior editor at DK who has contributed to several titles for the imprint. She is the author of DK Readers: L3: Star Wars: The Story of Darth Vader and DK Readers: L3: Star Wars: Star Pilot. You can follow her at @Torikosara.