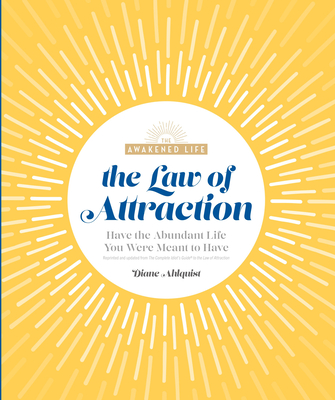 The Law of Attraction
Have the Abundant Life You Were Meant to Have (The Awakened Life)
Paperback

* Individual store prices may vary.
Description
The secret to getting what you want...

You know the value of positive thinking, but you're wondering if it can really bring good things your way. Too often, the things that happen to you, whether good or bad, seem completely beyond your control.

The Awakened Life: The Law of Attraction teaches you how to take back control and live the abundant life you were meant to have. In this enlightening guide, you'll discover how to start thinking about your life in a new way. You'll learn how to translate your thoughts into positive energy that can change the direction of your life and bring great things into your world! Whether it's your health, relationships, or career that you're struggling with, you'll get concrete, practical strategies for applying the Law of Attraction to transform your life in ways you never thought possible.
Alpha, 9781465490124, 288pp.
Publication Date: March 10, 2020
About the Author
Diane Ahlquist is an author, speaker, and has had a long career counseling and advising people on their spiritual questions and needs. She believes in all religions that preach no harm to anyone (including yourself), and that one should be kind and help the planet prosper. Whether or not one is religious, she believes that spirituality is the key to happiness. She has been featured on Elite Daily, Latina.com, LunaLunaMagazine.com, iHeartRadio, and SpiritualityHealth.com. She is the author of Moon Spells, Moon Magic, The Awakened Life: The Law of Attraction, The Complete Idiot's Guide to The Law of Attraction and The Moon + You.