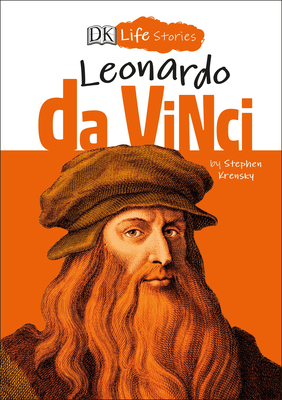 DK Life Stories (Hardcover)
Leonardo da Vinci
DK Children, 9781465490650, 128pp.
Publication Date: February 25, 2020
Other Editions of This Title:
Paperback (2/25/2020)
* Individual store prices may vary.
Description
Discover the inspiring story of Leonardo da Vinci, the artist, inventor, and engineer of the Italian Renaissance...

Leonardo was a creative genius who wanted to understand how things worked. This book traces his life, from his birth in a hilltop village near Florence, Italy, through to his work as a painter, sculptor, and engineer. Leonardo made hundreds of drawings and paintings, including the Mona Lisa - probably the most famous painting in the world. Learn how Leonardo made detailed sketches of the human body and designs of parachutes, helicopters, and armored tanks - many years before the technology existed to build them.

This new kids' biography series from DK goes beyond the basic facts to tell the true life stories of history's most interesting and inspiring people. Full-color photographs and hand-drawn illustrations complement age-appropriate narrative text to create an engaging book children will enjoy reading. Definition boxes, information sidebars, inspiring quotes, and other nonfiction text features add depth, and a handy reference section at the back makes DK Life Stories the one biography series everyone will want to collect.
About the Author
Author: Stephen Krensky has published more than 100 fiction and nonfiction books for children, including DK Life Stories: Anne Frank and Nelson Mandela, and DK Biography: Barack Obama. He lives with his wife in Lexington, Massachusetts.

Subject consultant: Leslie Primo has a degree in Art History and an MA in Renaissance Studies. He lectures at the National Gallery and the National Portrait Gallery in London and teaches art history at Imperial College, London. 

Literacy consultant: Stephanie Laird is an instructional coach at Mitchellville Elementary in Mitchellville, Iowa, and is currently serving on the International Literacy Association's (ILA) Board of Directors through 2019.

Charlotte Ager is the illustrator on all the Life Stories titles. Her work has appeared in The New York Times as well as in Season and Here magazines. She has also been featured on the Urban Outfitters blog. Charlotte lives  in London.