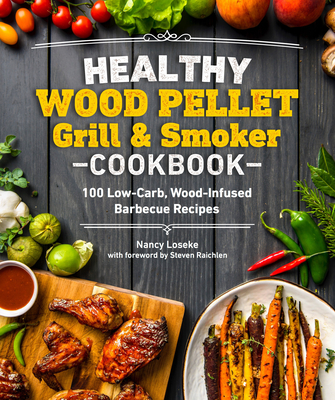 Healthy Wood Pellet Grill & Smoker Cookbook (Paperback)
100 Low-Carb Wood-Infused Barbecue Recipes (Healthy Cookbook)
Alpha, 9781465492623, 176pp.
Publication Date: May 5, 2020
* Individual store prices may vary.
Description
"...Nancy has more than a decade of experience with pellet grills. She'll teach you how to get maximum performance out of your grill." --Steven Raichlen, award-winning cookbook author and host of Barbecue University, Primal Grill, Project Smoke, and Project Fire 

If you're looking to fire up your grilling game, then you need a wood pellet grill and smoker. Not only does it grill foods perfectly every time, but it also infuses them with a smoky flavor that enhances the texture and taste of your BBQ dishes.

With Healthy Wood Pellet Grill & Smoker Cookbook as your go-to guide for healthy, competition-level results, you'll be making lower-carb versions of all your BBQ favorites for summer picnics, backyard BBQs, and family pitch-ins.

This book features:

  •  100 recipes for appetizers, beef, lamb, game, pork, poultry, seafood, soups, salads, and sides
  •  Full-color photography of mouth-watering recipes
  •  Expert advice on how to choose the best wood pellets for grilling and smoking
  •  A temperature guide to help you cook foods to the desired doneness
  •  Nutritional data that includes carbs, calories, total fat, fiber, and protein
About the Author
Author Nancy Loseke developed recipes and wrote a cookbook for Traeger, which is the leading retailer of wood pellet grills and smokers. For many years now, she's also created recipes, written blog posts, and edited content for Steven Raichlen's Barbecue Bible website.

Foreword writer Steven Raichlen has written more than 30 barbecue books, including the international bestseller The Barbecue Bible. His books have won 5 James Beard Awards and 3 IACP-Julia Child Awards and been translated into 17 languages. An award-winning journalist, Raichlen has written for the New York Times, Wall Street Journal, Esquire, GQ, and all the major food magazines. In 2015, he was inducted into the Barbecue Hall of Fame.
Praise For Healthy Wood Pellet Grill & Smoker Cookbook: 100 Low-Carb Wood-Infused Barbecue Recipes (Healthy Cookbook)…

Foreword by Steven Raichlen
 
I never met a grill book I didn't love. But this one holds special significance because it was written by my longtime friend and assistant, Nancy Loseke.
 
Yes, that Nancy—the content director of my barbecuebible.com website, the editor of my Up in Smoke newsletter, the culinary producer of my shows on American Public Television, the Nancy who painstakingly proofreads all my books, tests the recipes, and lends such a big helping hand 
at Barbecue University, the barbecue boot camp I founded 20 years ago. 
 
And now to her long list of accomplishments in the barbecue world, add Nancy's first book. 
 
It's about a subject that is hot, hot, hot in the barbecue world—and I don't just mean on account of fire. Her Healthy Wood Pellet Grill & Smoker Cookbook addresses two of the biggest trends in American barbecue: healthy grilling and pellet grills. Because, let's face it, much as we all love that plate-burying rack of ribs or brisket, too much barbecued meat might wind up burying us. More and more of us—and that certainly includes me—are trying to incorporate grilled seafood, vegetables, grains, and other healthy ingredients into our diets. Nancy is ready to oblige us with the delectable likes of lean and low-carb Chuckwagon Beef Jerky, Thai-Style Swordfish Steaks with Peanut Sauce, and Roasted Parmesan-Crusted Whole Cauliflower. That's not to say Nancy shies away from meat: Her Buffalo-Glazed Bison Burgers, Tuscan Cheesesteaks, and Pig on a Stick will make the heart of any diehard carnivore beat faster.
 
The other trend Nancy addresses is pellet grills. You don't need a degree in marketing to know that this is the fastest-growing segment of the grill market. New brands are proliferating (Weber just got into the act) and existing brands become more sophisticated every day. You can now control your Green Mountain Pellet Grill, for example, with your smartphone. Having worked for many years for pellet grill pioneer Traeger, Nancy has more than a decade of experience with pellet grills. She'll teach you how to get maximum performance out of your grill. 
 
The Healthy Wood Pellet Grill & Smoker Cookbook by Nancy Loseke. I'm proud to add this book to my library and I know you'll be glad you've added it to yours.
 
Steven Raichlen
Miami, Florida
November 2019