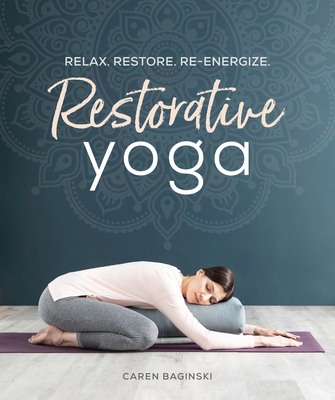 Restorative Yoga
Relax. Restore. Re-energize.
Paperback

* Individual store prices may vary.
Description
Rejuvenate your mind, body, and soul through restorative yoga.
 
Are you seeking balance, healing, and a calmer mind? Unlike active styles of yoga that focus on stretching and movement, restorative yoga emphasizes mindful rest by using props to support your body in complete comfort and relaxation—no flexibility required! Whether you already practice yoga or are just getting started, Restorative Yoga is your step-by-step guide to deepening the connection between your body and mind.
 
Here's what you'll find in this highly visual guide:
 
 • Practical information on the amazing benefits of restorative yoga
 • 39 restorative yoga poses, each featuring beautiful photography and detailed, step-by-step instructions to take you from start to finish, with simple modifications to suit any body type, including for pregnant yoga practitioners
 • 17 healing sequences for a variety of physical, mental, and emotional conditions including anxiety, insomnia, depression, headaches, and shoulder or back pain
 • Expert guidance for choosing and using props (including items you already have at home), practicing safely, creating a peaceful space, using breathing techniques to calm your mind, and more
Praise For Restorative Yoga: Relax. Restore. Re-energize.…
"These turbulent times call for more ease in our lives. Whether you're rolling out a mat for the first time or have practiced yoga for decades, Baginski's Restorative Yoga will ease you into your day and help you sleep better at night. The soothing practices are beautifully photographed and clearly explained with detailed instructions on entering and transitioning out of each pose. The author's guidance cues your awareness to the sensations you are experiencing, keeping you in the present moment of the posture and out of whatever worries may have been present when you began. The photos and stunning layout and design offer serenity before you even roll out your mat. Caren Baginski is the best kind of yoga teacher. Her soothing narrative voice prompts us to breathe and to feel and to let go of whatever we don't need to carry off the mat. If you're like me, this book won't stay on your shelf for long. It will be your companion as you practice."—Amy Weintraub, Yoga Therapist and founder, LifeForce Yoga. Author of Yoga for Depression, Yoga Skills for Therapists and the forthcoming Temple Dancer

"I love this book! It is so well organized and presented that—just like the practice of Restorative Yoga itself—it puts the reader at ease. With beautiful photos and great instruction, it provides the reader all they need to know in order to prepare the body, calm the mind and experience the wonders of Restorative Yoga. I highly recommend this comprehensive yet simple and practical handbook."—Michele Lawrence, C-IAYT, Yoga Therapist and Founder/Director of Inner Peace Yoga Therapy
Alpha, 9781465492630, 208pp.
Publication Date: May 5, 2020
About the Author
Caren Baginski has been teaching yoga and meditation since 2009, and is the founder of Being Enough, a transformational program for gaining freedom from the negative inner critic and embodying deep rest and self-acceptance. Her YouTube channel has more than 1 million views and gives people from around the world permission to slow down, do less, and heal. In addition to Restorative Yoga, Caren is trained in Yoga Nidra, Vinyasa Yoga, and will soon complete her yoga therapy certification through Inner Peace Yoga Therapy. A former journalist with a BSJ degree from Ohio University, Caren's writing has appeared in Yoga Journal and Mantra Wellness Magazine, among other publications in the home, health, and wellness industries. Learn more at www.carenbaginski.com and subscribe to her YouTube channel for free restorative yoga videos.