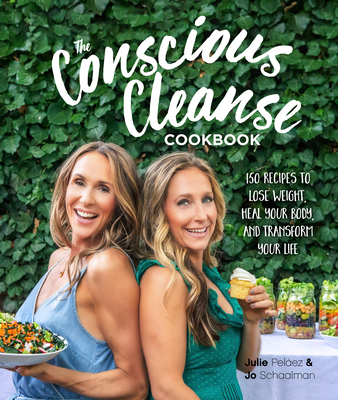 The Conscious Cleanse Cookbook
150 Recipes to Lose Weight, Heal Your Body, and Transform Your Life
Hardcover

* Individual store prices may vary.
Description
Achieve vibrant health and sustainable weight loss with fresh, fulfilling recipes from the creators of the Conscious Cleanse.

Are you ready to make a lifestyle change? This gorgeous cookbook will give you the motivation you need to break unhealthful eating habits and find joy in the kitchen. With their Conscious Cleanse program, Jo Schaalman and Jules Peláez have helped thousands of clients lose weight, heal their bodies, and regain vitality.

In The Conscious Cleanse Cookbook, Jo and Jules share over 150 simple recipes that are packed with veggies, fruits, nuts and seeds, legumes, and non-gluten grains. Whether you've committed to the Conscious Cleanse or you're just looking for an amazing repertoire of healthy, wholesome, delicious foods, this cookbook is for you. Feast on Bison Bolognese with Zucchini Noodles or Coconut Glazed Halibut with Butternut Curry Sauce, or enjoy an occasional Jalapeño Mezcal Margarita. No deprivation, no calorie counting. Just healthy, easy recipes for every meal of the day.


   • Informative - Learn the basics of the Conscious Cleanse plan, including what foods to keep off your plate, and create your own blueprint for success.
   • Achievable - The Conscious Cleanse 80:20 Plan provides balance that is flexible and sustainable.
   • Adaptable - There's something for everyone, whether you're plant-based, paleo, or something in between. Helpful tags identify cleanse-friendly recipes, those that fit the 80:20 lifestyle, and low-sugar recipes.
   • Inspirational - Personal success stories and words of encouragement from Jo and Jules keep you on track and motivated.
Alpha, 9781465493323, 256pp.
Publication Date: December 1, 2020
About the Author
Jo Schaalman is a nutrition therapist and yoga teacher whose workshops focus on transformative healing and optimal health. Through her personal journey of debilitating allergies and a devastating bike crash, she learned how to heal herself and now shares the wisdom she gained through her yoga classes and the Conscious Cleanse program. She has worked closely with such cutting-edge healers as yoga master Ana Forrest and Dr. Theron Randolph. 

Julie Peláez has been a certified Bikram yoga instructor for nearly a decade and is a holistic health coach. She studied at the world's largest nutrition school with top nutrition experts like David Wolfe and Dr. Andrew Weil, researching more than 100 different dietary theories. Julie is grateful to share her passion for vibrant health.
or
Not Currently Available for Direct Purchase