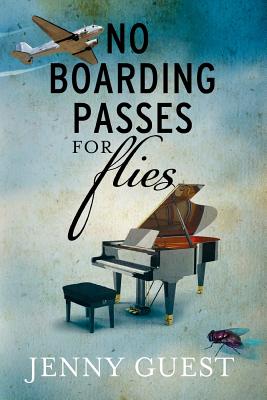 No Boarding Passes for Flies (Paperback)
Createspace Independent Publishing Platform, 9781466200715, 252pp.
Publication Date: February 12, 2012
About the Author
ABOUT THE AUTHOR Jenny Guest was born Beatriz Eugenia Lopez Velasco in Tucuman, Argentina. She still does not know why she was nicknamed Jenny. Her father was a diplomat and she travelled extensively all through her childhood and then after she was married. She met her husband, a British diplomat, in Japan. She enjoyed entertaining while on post but her favourite past time when back at home in London was doing up houses which helped with the family income. They did not only move from country to country but also from neighbourhood to neighbourhood! They had three boys very quickly- somebody teased them that there were four under three- but it was actually three under four for a while. Number four came later. She had to juggle family life with her other duties, so she organised it in a way that it was not only possible but also enjoyable. She loved communicating with people, which she did by letter writing when she was a child and in her youth. At the time there was no emailing. Her grandfather enjoyed her news very much and encouraged her to write a book. Only now in her sixties she has found time to do so. "No boarding passes for flies" is her first novel but she has two more on the boil. Both her parents came from artistic families and she was made to learn to play the guitar and take ballet lessons from very early age. She still adores ballet and dancing. Because of her nomadic life she had the opportunity to meet people from different backgrounds and developed a sharp insight into human behavior. Three of their sons are married and they have two beautiful granddaughters. They currently live in London, England.
Advertisement