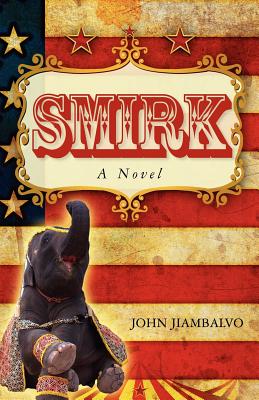 Smirk (Paperback)
Createspace Independent Publishing Platform, 9781466285088, 480pp.
Publication Date: November 26, 2011
Description
At the end of 2000, the Supreme Court effectively appointed a president who gave America something it had never had before: an administration headed largely by misfits and sociopaths. In Smirk: A Novel, author John Jiambalvo trains an unblinking gaze on a fictional administration not altogether distinct from the first administration of George W. Bush. His narrative is sure to enthrall and gall thoughtful readers. It may even inspire some to think again about the discrepancies between the ideals America proclaims and the acts undertaken allegedly on behalf of its citizens. We come to know the inner workings of President Smirk through narrator Bobby Bob Bob, or B3, a Texan and longtime friend and former college roommate. Having made a sizeable fortune by producing crude reality-based TV shows, B3 boasts wealth, looks, power, and the arrogance to match. As Special Assistant to the President for Media Relations, B3 is primed to push forward an agenda of compassionate conservatism that gives much to the rich and spin to everyone else. As Bobby charts the deeds and misdeeds of his friend and commander in chief, he wades conscience-deep into some of the most unsettling events of our time. From unapologetic tax cuts for the rich to starting two unfunded wars, Smirk and his cunning compatriots, including Vice President Dick Chummy and National Security Advisor Condolence Mash, weave a novel fabric from American ideals, even going so far as to substitute dollar signs for stars on the American flag. The administration's point of view is captured by the immortal words of Smirk's Secretary of Defense, Rusty Runt, who proclaims, "France, Germany, and Russia have forgotten that the way to lasting peace is through war. Has history taught them nothing?" In addition, Smirk and his gang of compassionate conservatives create an attack on public education and an unpaid for prescription drug benefit, the Patriot Act, and a context that encourages the excesses of Abu Ghraib. Along the way, Smirk even dazzles his constituents with a few well-warbled raps to further the agenda of the day. As Bobby is exposed to the really raw side of politics, such as the appropriation of the events of 9/11 for political purposes, he begins to entertain the unthinkable, questioning Smirk and alienating the advisors who swarm around him. With eviscerating wit and hilarious dead aim, John Jiambalvo's terrifying narrative asks for a place in the great tradition of American political satire, a tradition that springs from Mark Twain and is fully embodied in Catch-22 and Slaughterhouse Five. It also takes a cue from such political comedians as Jon Stewart and Stephen Colbert. Smirk: A Novel is a razor-sharp read that crosses back and forth from humor to horror and incites readers to ask, What is there about all this that seems to familiar?
About the Author
John Jiambalvo studied English Literature at the University of Illinois at Chicago and at the University of Chicago. He has held several sales and marketing positions in the Midwest and is also the author of a book of poetry, Shadows Walking Among Questions. An avid reader of American and European history, Jiambalvo frames Smirk: A Novel, his satirical representation of recent political events, in a way that emphasizes the novelties and distortions of American tradition that have occurred during the last several years.
Advertisement