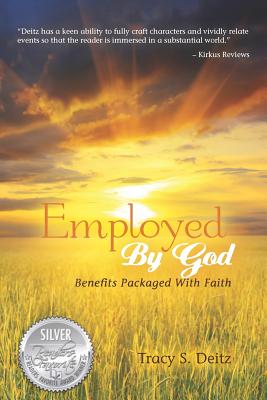 Employed by God (Paperback)
Benefits Packaged with Faith
Createspace Independent Publishing Platform, 9781466370821, 160pp.
Publication Date: December 13, 2011
* Individual store prices may vary.
Description
Employed by God: Benefits Packaged With Faith placed as a finalist in the 2012 Readers Favorite Contest.
In fall of 2009, Tracy S. Deitz abruptly joins the nation's ranks of 14 million unemployed workers, and the event immediately challenges the very core of her Christian beliefs. In whom does she really trust? After struggling with pride and despair for many months, she finally faces her worst fears. This is when her greatest adventures begin as she encounters unsung heroes and reflects on situations that range from her taking part in a medical mission to Mongolia to working in a maximum-security prison. What happens when our ideas of destiny collide with God's invitation to serve? Throughout the whole process of rediscovering God, Deitz comes to a new understanding of how he calls us and what it means to trust in him. Based on the structure of Psalm 23, the chapters in Employed by God: Benefits Packaged with Faith combine her personal story with Bible passages and include study questions for small-group discussions. How would an unexpected job loss affect your faith? Adults who have faced unemployment, the death of a loved one, or adversity of any kind will be filled with hope as they read examples of how God works in the lives of ordinary people. This truly inspiring book will help renew our gratitude, teach us how to forgive mistakes, and guide us toward personal fulfillment. "I lost my job 90 days ago. After I finished reading the first chapter of Employed by God, I found hope again." -Brenda Wickard "What a moving story-and written in a way that is clear and compelling." --Vinita Hampton Wright, author of Grace at Bender Springs and The Soul Tells A Story "I included Tracy's curriculum about employment and crisis in our adult Bible study program because these topics are relevant to many in our congregation. The study questions delved deeply into different issues that grew my faith. I would recommend this material for small groups everywhere." -Lynn Copeland Buckles, director of Christian Education at Tabernacle United Methodist Church, VA.
About the Author
A licensed teacher with a master's degree in education, Tracy S. Deitz also leads workshops and designs curriculum for various instructional needs. She has traveled to nine countries overseas, including Barbados, South Africa, Mongolia, England, Switzerland, France, Belgium, Bermuda, and Haiti. Author of Employed by God and Breaking the Cycle, Deitz is a Christian writer who focuses on how God helps us overcome adversity. She currently resides in Virginia with her husband, Dan. For more information about the workshops she offers, or to schedule a speaking engagement, visit her website at www.tracysdeitz.com.