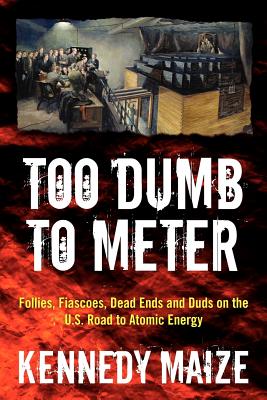 Too Dumb to Meter (Paperback)
Follies, Fiascoes, Dead Ends and Duds on the U.S. Road to Atomic Energy
Createspace Independent Publishing Platform, 9781466420526, 260pp.
Publication Date: February 24, 2012
* Individual store prices may vary.
Description
Much of the story of the atom focuses on the well-known course of development of newer, bigger, stronger bombs, and of the birthing problems and maturation of civilian nuclear power plants. That's all well and good, and worth chronicling. But there is another story, less known but often more interesting and more amusing. It is also a cautionary account of the perils of government hubris, public hysteria, and planning gone wild. Misguided policy, misunderstood history, misapplied engineering, mistaken economics. This book is the tale of some of the things that went wrong, often terribly and expensively wrong from the very first conception through the failed implementation. It is a tale of technological hubris and stubborn belief in the ability of big science and big engineering and big government money to solve any technical problem. This account is particularly timely. Understanding the Solyndra fiasco, the folly of ethanol fuels, and the current controversies over the role of the federal government as a venture capitalist can benefit from a look to the past and the U.S. experience with atomic energy. It's a humbling lesson. The tale of trying to tame the atom involves not only technology and government policy, but a rich stew of players and personalities, from high-level politicians and partisans to hard-scrabble prospectors trying to find radioactive gold in a vast desert. Meet cocksure scientists such as Edward Teller, ebullient boomers such as Charlie Steen, bureaucratic infighters such as Herbert York, lyrical dreamers such as Freeman Dyson.
About the Author
Kennedy Maize has been a journalist covering the U.S. energy scene for 40 years. He is executive editor of Managing Power magazine and a contributing editor of POWER magazine. Maize was the founder of The Electricity Daily in 1993 and its editor until 2006. He was a writer and editor for the Energy Daily, covering energy politics in Washington, from 1979 to 1990. He has also served in management positions at the National Institutes of Health and the U.S. Nuclear Regulatory Commission and worked for several non-profit groups including the Union of Concerned Scientists, the Consumer Energy Council of America Research Foundation, and the American Public Power Association. Over his years as a journalist, Maize has covered the creation of the U.S. Department of Energy, the Three Mile Island accident, the Chernobyl disaster, the Fukushima catastrophe. He has written about the rise and fall of the Clinch River Breeder Reactor, and the feckless U.S. nuclear waste policy since the debates over the 1982 Nuclear Waste Policy Act and through the failure of the Yucca Mountain project. He has followed and written about every energy secretary since the first, James Schlesinger, in the Carter administration.