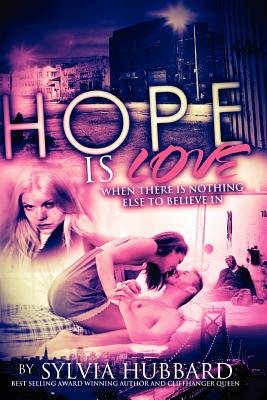 Hope Is Love (Paperback)
Sequel to Love Like This
Createspace Independent Publishing Platform, 9781466467385, 252pp.
Publication Date: February 28, 2012
* Individual store prices may vary.
Description
Meet "Hope, " but most people call her Jona. She was a person living in the world, but not living on the inside.
Bad things happen to good people and Hope was the person we lose in the systems and grow up just going from day-to-day trying to make a dollar out of the pennies she find.
But she's smart on the street. She keeps to herself, but she's just there. A body without a soul and she's going nowhere.
Then meet James from "Love Like This*."
He's one of the bad characters that once the story is over you really don't give a fig about. Now he's lost again and you'll find him here in "Hope is Love."
Discover murder, suspense and deceit but in the end all realize "Hope Is Love."
"*Love Like this is available at www.sylviahubbard.com/books.
About the Author
Sylvia Hubbard knew she wanted to be a writer of romance long before she knew there were black writers in the world. Weaving stories magically as a summer past time to writing stories to get through the humdrum of school, she was able to create something from nothing. Today, she has independently published over 28 books, is the founder of Motown Writers Network and The AA Electronic Literary Network, CEO of HubBooks Literary Services, runs over five blogs on a variety of subjects, host The Michigan Literary Network Radio Show and is a happily divorced mother of three children in Detroit, Michigan. "I'm no superwoman," she states with a smile that seems infinite on her lips. "I'm just being an asset in the world instead of a liability." Considered an addicted blogger by HoneyTechblog.com, nominated and recognized for her literary work in the Metro Detroit area, referred to as "A Literary Diva" by Detroit City Council and donned "Cliffhanger Queen" by her readers, she finds solace in speaking and educating on a variety of topics. Her subjects range from Social Media, Internet Marketing, Creative Intimacy, Single Parenting, Blogging, E-Books, Publishing (all aspects i.e.: writing, publishing, marketing & promoting online & offline), and personal triumphs with inspiration mixed in. Never a disappointment, Sylvia Hubbard, has spoken in front of thousands all over the United States and Canada.