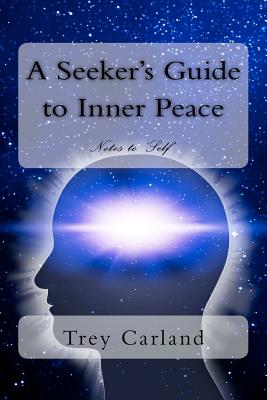 A Seeker's Guide to Inner Peace
Notes to Self
Paperback

* Individual store prices may vary.
Description
Inspired by the works of Eckhart Tolle, Byron Katie, Adyashanti, and many other well-known (and not so well-known) spiritual teachers, this book chronicles the journey of a man enamored with the idea of Enlightenment. Not only are the great wisdom teachings brought to life in this book, the inspirations, meditations and revelations experienced by the author are also eloquently expressed.This book is written in such a way that it appeals to those who have been actively seeking spiritual Enlightenment, as well as those who only have a mild curiosity. The teachings and experiences shared in this book are actually lessons on how to live a happier and more peaceful life. Since this book shares real life experiences with which most of us can relate, it also serves as a road map to bring about a deeper understanding of what Awakening means in our daily lives.There have been many great books written about Enlightenment, which serve as wonderful pointers to Truth. However, this book was written by an awakener for awakeners, which provides an entirely different perspective on how these teachings can change life for the better. Whether you are actively seeking Enlightenment or not, the impact of these pointers can be quite profound. Many may find that being exposed to these teachings through someone like themselves, as opposed to a traditional guru, is much more palatable.This book is the manifestation of the author's passion for Truth, and his desire for everyone to be exposed to it in some way. It is written to be receptive to a broader audience than many other books on Self-realization, and could be considered a comprehensive overview on the subject. The blog style in which it is written illustrates the progression and integration process that can occur as we delve deeper into our true Self. It is also full of helpful meditation practices for those who don't like to meditate.This book contains numerous glimpses into what is in store for us should we dare admit that we could be wrong about everything.
Praise For A Seeker's Guide to Inner Peace: Notes to Self…
"A Seeker's Guide to Inner Peace" is a spiritual gem. I love this well written and intelligent book. The light of love, compassion and wisdom shines through every page. Trey Carland writes in a personable and pragmatic manner that is both kind and wise. The reader is fully engaged and one senses that they could be sitting in the same room with the author enjoying an open and honest conversation with a true Heart friend.

The book is a journal of life situation encounters that reflect deep insights and realizations. They skillfully support the inner pathway to conscious freedom and inner peace. Throughout the book, Trey shares inspiring quotes, recommended books, helpful practices and meditations to meet those apparent obstacles the seeker meets. He then gently points toward the ever open doorway to the light that one genuinely is. The "Notes to Self" demonstrate a deeply contemplated life that is fully enriched by direct understanding." ~ Katie Davis, author of "Awake Joy: The Essence of Enlightenment"
Createspace Independent Publishing Platform, 9781466486669, 208pp.
Publication Date: December 19, 2011
About the Author
Trey was born in Asheville, North Carolina, and still lives in the nearby area. He attended college at Western Carolina University, earning several masters degrees in business. He started a web site development company at the age of 18 and spent some time as a business consultant. He eventually found himself running the family business, an academic conferencing and publishing company. When Trey was diagnosed with Epilepsy in 2004 at the age of 31, he started trying to make sense of a world that he thought he already knew. His research took him well beyond the realm of business to a study of science and medicine, including everything from biology to physics to alternative healing practices. Looking to fill in the gaps in what these subjects were missing, he began studying various religions, shamanism, metaphysics, spirituality, meditation, and eventually discovered non-duality and the idea of enlightenment. He then realized that self-realization was what he had been seeking all along. He began blogging about his awakening experiences and how the teachings of non-duality were positively impacting his state of being. His writings would eventually become his first book, "A Seeker's Guide to Inner Peace: Notes to Self." Trey is the co-founder of the Asheville Sangha online community (http: //www.AshevilleSangha.com), which was developed for people interested in non-duality, self-realization, meditation, enlightenment, etc. He also facilitates Awakening Support Group meetings in the Asheville area. Trey invites contact and exchange with any reader who feels a draw or a need. You can reach him, and follow his current writings through his on-going blog or Facebook.