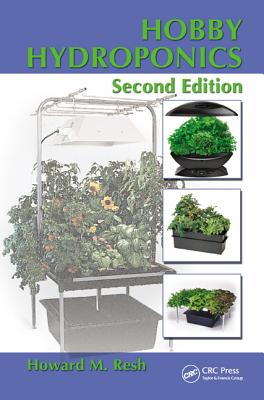 Hobby Hydroponics (Paperback)
CRC Press, 9781466569416, 155pp.
Publication Date: January 18, 2013
Other Editions of This Title:
Hardcover (7/27/2017)
* Individual store prices may vary.
Description
Hydroponics as a hobby can provide enjoyment, stress relief, and the gratification of creating your own fresh, pesticide-free garden. The increased interest in hobby hydroponics over the last 30 years has created market demand and, therefore, widespread availability of small-scale hydroponic units. Hobby Hydroponics, Second Edition is a guide to all aspects of home hydroponic culture and systems, providing the most up-to-date information on hobby hydroponic growing, including the numerous advancements in concepts, technology, and products since the first edition.
The book presents an overview of typical hobby hydroponic units available, describing representative systems including water culture--for example, aeroponics and nutrient film technique (NFT)--and soilless culture, such as coco coir, perlite culture, and vertical plant towers. The author discusses culture practices and the tools necessary to care for plants and provide optimum growing conditions by regulating variables including lighting, temperature, and carbon dioxide, as well as monitoring pH and electrical conductivity. He also provides information on nutrients, natural pest control, and symptoms of pests and imbalances to assist growers in being aware of and controlling these issues. The book instructs readers on how to start plants, recommends crop varieties, and even describes how to construct some systems in lieu of buying them, for readers who choose to do so. New this edition:
Discusses new hobby units and components including lights, CO
2
generators, and testing equipment Updates available nutrients and new products such as mycorrhizae Includes many new photographs Provides up-to-date references, suppliers, and websites
Making hydroponics accessible to everyone willing to learn and apply the knowledge, this book provides the information necessary to start, grow, and reap the rewards of having your own hydroponic crops.
About the Author
Howard M. Resh, Ph.D., is a recognized authority worldwide on hydroponics. His website www.howardresh.com presents information on hydroponic culture of various vegetable crops. In addition, he has written five books on hydroponic culture both for commercial growers and backyard hobbyists. The call of commercial hydroponics has taken him to many projects in countries including Venezuela, Taiwan, Saudi Arabia, the United States, and in 1999 to Anguilla, British West Indies, in the Eastern Caribbean, where he is still today. Resh continues to do consulting on many unique hydroponic greenhouse operations, including Lufa Farms in Montreal, Canada, where he established the growing techniques and hydroponic systems for a rooftop hydroponic greenhouse in downtown Montreal.