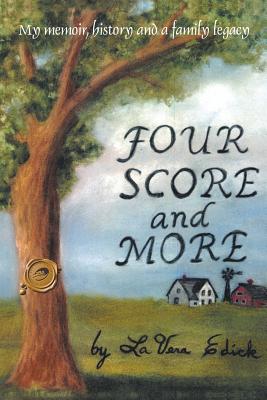 Four Score and More
My Memoir, History, and a Family Legacy
Paperback

* Individual store prices may vary.
Other Editions of This Title:
Digital Audiobook (3/18/2013)
Hardcover (3/15/2013)
Description
Statement from Author I was born in 1925. This is my story of growing up on a farm and following the oft-times bumpy road of life. It is the story of my family and ancestors, those pioneers who cut the trails and paved the roads for our journey through life. Several major events helped shape the lives and attitudes of those born before 1940. It was a struggle raising a family in the thirties: not only was the nation in a financial crisis, Mother Nature was in an ugly mood. When people reminisce, they often talk about the "good times" they had during the "bad times." There was a shortage of money but an abundance of love and family togetherness. A product of hardy pioneer stock, at an early age, I gained satisfaction from a hard day's work well done. From managing a trucking business and selling brushes, I became first lady of an insurance company and pursued my dreams of becoming an artist. Statement from Jackie Glen, editor: If your grandparents, great-grandparents and their relatives lived in the 1800's and early 1900's in the Midwest, you will want to read this book that describes in detail what life was like on the farm. Personal anecdotes about the author and her family will put you in stitches or bring you to tears, but every tale will cause you to wonder how our ancestors survived. Their stories of hard work, sacrifice, and determination not only will remind you of where you came from, but provide a road map of the future. "Flanked by the colorful stories of several generations before and after her, Edick shares her life journey through the often turbulent, historically and personally, 20th century - a genuine, heartfelt memoir." -US REVIEW of BOOKS.
Trafford Publishing, 9781466973961, 396pp.
Publication Date: March 15, 2013