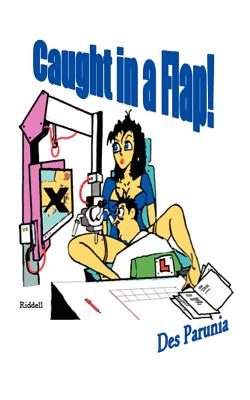 Caught in a Flap! (Paperback)
Authorhouse UK, 9781467009287, 412pp.
Publication Date: January 12, 2012
* Individual store prices may vary.
Description
ABOUT THIS BOOK For those of you adult readers who have ever wondered about what it would be like to aspire to become a gynaecologist, well now is your chance to find out Desmond Parunia, in writing 'Caught in a Flap', tells a story seen through the eyes of a young schoolboy, Mikey Jones. Mikey who emigrated to sunny Rhodesia in the late sixties, becomes fascinated by the mystery of female anatomy after spending most of his free time frolicking in swimming pools surrounded by bikini-clad beauties. Having only two brothers and no sisters only added to the intrigue Nothing like this ever happened at Epsom Baths Desmond takes us through the frustration and excitement of a young man growing up in a world where there appeared to be an endless supply of new experiences. A world where one was about to discover rude films, pop music, stereo Hi Fi, candy-coloured super fast Japanese motorcycles, driving cars, drinking beer and of course.....girls Mikey has a reasonable shot at most of the material things, but the girls remain elusive, particularly from the point of revealing their dark secret In desperation, Mikey tries to impress them with his ambition to become a gynaecologist. The story then goes on to unravel a disjointed and sometimes hilarious escapade of life sketches capturing mainly the highs but sometimes the lows of what it was really like fulfilling that ambition. Please note that the author does not recommend you reading this book to your children at bed time.