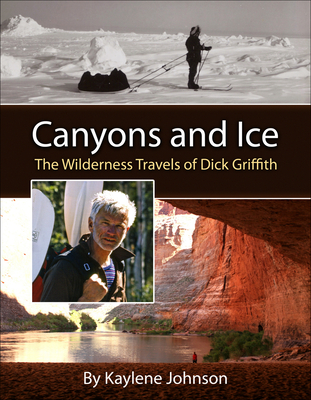 Canyons and Ice
The Wilderness Travels of Dick Griffith
Paperback

* Individual store prices may vary.
Description
Solo travel today is anything but solitary, with the familiar glow of technology and nearly sentient gear as common companions. But for decades one especially daring traveler has set off into the wilderness with little more than a sense of adventure. Dick Griffith is an Alaska legend who made his name with a string of fearless fea: rafting down the Green and Colorado Rivers, skiing solo across the icy Northwest Passage, and being the first nonnative to drop into the treacherous Barranca Del Cobre in Mexico.  

The first full biography of Griffith, Canyons and Ice offers a rare look at the man behind the soaring achievements and occasionally death-defying moments.  Both a grand tale of adventure and a reflection on what motivates a man to traverse some of the most remote places on earth, it will set fire to readers' adventurous spirits.

Praise For Canyons and Ice: The Wilderness Travels of Dick Griffith…
"Stoical, utterly self-reliant, and attracted by challenges of immense scale, Griffith brings to mind heroic figures of an earlier, less craven era—stalwart individuals like Shackleton, Amundsen, Nansen, and Stefansson who explored some of the least hospitable places on earth without benefit of GPS, Gore-Tex, or the possibility of rescue . . . As this gripping and inspiring book explains, Griffith is simply 'afflicted' with an irresistible inclination to attempt what others say can't be done."
— Jon Krakauer, author of Into the Wild, Into Thin Air, and Under the Banner of Heaven

"Dick Griffith has lived the sort of big, wild life that most cardboard-cutout adventures of today only dream of living. He has engaged the wilderness in his own way on his own terms without ever once pandering to sponsors. He has undertaken adventures hard to believe, and survived every one of them. The result is a life so awe inspiring you may not believe this book is true. But every damn word is as real as the north-country dangers that have killed lesser men."
— Craig Medred, reporter for Alaska Dispatch and author of Graveyard Dreams

"At a time when few river canyons had been traversed in the 1950s, [Dick] had the temerity to venture into the wild and unknown Barranca del Cobre in Mexico without even a proper topographic map. His ingenuity was amazing. . . . He sought no recognition for his achievement—in fact, few knew of the accomplishments until the past few years."
— James "Rocky" Contos, Director, SierraRios

"In Griffth's wake have come many other adventurers seeking to explore the country's wild places. . . . But no one, it seems, has yet amassed the number of treks—both solo or with a companion or two—that Griffith has."
— National Parks Traveler

"[Griffith] has traversed unexplored canyons in a packraft and has skied solo across thousands of kilometres of the Arctic. All of it without sponsors. All vividly documented in his journals. And now for you and me to read about in this fine book."
— Hiking in Finland
Ember Press, 9781467509343, 280pp.
Publication Date: March 15, 2013
About the Author
Kaylene Johnson is the author of five books and numerous articles about Alaska and the people who live there. She lives in Eagle River, Alaska.
or
Not Currently Available for Direct Purchase