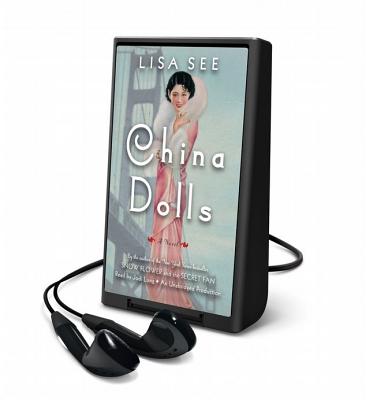 China Dolls (Pre-Recorded Audio Player)
Random House, 9781467676908
Publication Date: June 3, 2014
Other Editions of This Title:
Paperback (3/3/2015)
Hardcover (6/3/2014)
Paperback, Large Print (6/3/2014)
Compact Disc (6/3/2014)
Prebound (7/24/2015)
* Individual store prices may vary.
Description
The "New York Times" bestselling author of "Snow Flower and the Secret Fan, Peony in Love, "and" Shanghai Girls" has garnered international acclaim for her great skill at rendering the intricate relationships of women and the complex meeting of history and fate. Now comes Lisa See's highly anticipated new novel, "China Dolls."
It's 1938 in San Francisco: a world's fair is preparing to open on Treasure Island, a war is brewing overseas, and the city is alive with possibilities. Grace, Helen, and Ruby, three young women from very different backgrounds, meet by chance at the exclusive and glamorous Forbidden City nightclub. Grace Lee, an American-born Chinese girl, has fled the Midwest with nothing but heartache, talent, and a pair of dancing shoes. Helen Fong lives with her extended family in Chinatown, where her traditional parents insist that she guard her reputation like a piece of jade. The stunning Ruby Tom challenges the boundaries of convention at every turn with her defiant attitude and no-holds-barred ambition.
The girls become fast friends, relying on one another through unexpected challenges and shifting fortunes. When their dark secrets are exposed and the invisible thread of fate binds them even tighter, they find the strength and resilience to reach for their dreams. But after the Japanese attack Pearl Harbor, paranoia and suspicion threaten to destroy their lives, and a shocking act of betrayal changes everything.
Praise for Lisa See's "Dreams of Joy"
" "
"Astonishing . . . one of those hard-to-put-down-until-four-in-the-morning books . . . a story with characters who enter a reader's life, take up residence, and illuminate the myriad decisions and stories that make up human history."--"Los Angeles Times"
" Lisa] See is a gifted historical novelist. . . . In "Dreams of Joy, "] there are no clear heroes or villains, just people who often take wrong turns to their own detriment but for the good of the story, leading to greater strength of character and more durable relationships.""--San Francisco Chronicle"
"A heartwarming story of heroic love between a mother and daughter . . . No writer has better captured the voice and heart of Chinese culture."--"Bookreporter"
"Shanghai Girls"
" "
"See's emotional themes are powerful . . . the bonds of sisterhood and] the psychological journey of becoming an American.""--The Washington Post"
" "
"If you're looking for one of those wonderful 'take me someplace exotic and unfamiliar' books . . . you won't do better than "Shanghai Girls."""--The Dallas Morning News"
" "
"Readers truly know and care about these women within a few pages.""--The Miami Herald"
"From the Hardcover edition.
About the Author
Lisa See is the "New York Times" bestselling author of "Dreams of Joy, Shanghai Girls, Peony in Love, Snow Flower and the Secret Fan, Flower Net" (an Edgar Award nominee), "The Interior, " and "Dragon Bones, "as well as the critically acclaimed memoir "On Gold Mountain." The Organization of Chinese American Women named her the 2001 National Woman of the Year. She lives in Los Angeles.
or
Not Currently Available for Direct Purchase