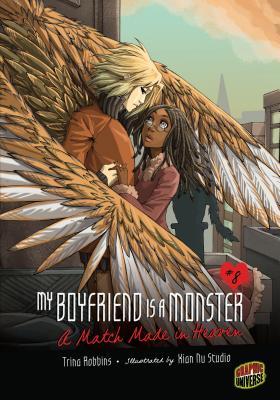 #08 a Match Made in Heaven (Paperback)
Graphic Universe, 9781467707329, 127pp.
Publication Date: April 1, 2013
Description
Aspiring comic book artist Morning Glory Conroy already has too much to juggle at her San Francisco high school--mean girls, inconsiderate cliques, wannabe gangbangers--without the complication of falling for new student Gabriel. Glory's best friend, Julia, was interested in him first, and if it weren't for Julia's deteriorating home life, Glory wouldn't have had a chance to get Gabriel to herself. But does he count as a real boyfriend if his overbearing guardian forbids even kissing? Soon Gabriel is pushing Glory to show her work at art events, and the new relationship starts taking Glory away from her bff just when Julia needs her. Glory is in for a startling revelation when she discovers not only Gabriel's true identity, but also that of his mischievous cousin Luci, who trails their every move just to cause trouble. Can Glory and Gabriel keep their relationship aloft when the heavens themselves seem to be against it?
Advertisement