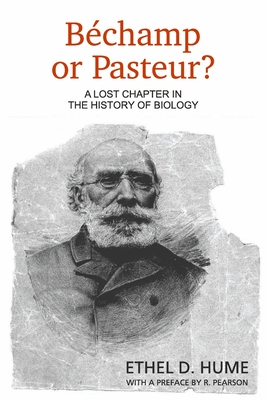 Bechamp or Pasteur?: A Lost Chapter in the History of Biology (Paperback)
A Lost Chapter in the History of Biology
Createspace Independent Publishing Platform, 9781467900126, 352pp.
Publication Date: November 2, 2011
Description
This volume contains new editions of two books which have been available only sporadically in the decades since their publication.
R. Pearson's Pasteur: Plagiarist, Imposter was originally published in 1942, and is a succinct introduction to both Louis Pasteur and Antoine Bechamp, and the reasons behind the troubled relationship that they shared for their entire working lives.
Whereas Pearson's work is a valuable introduction to an often complex topic, it is Ethel Douglas Hume's expansive and well-documented Bechamp or Pasteur? A Lost Chapter in the History of Biology which provides the main body of evidence. It covers the main points of contention between Bechamp and Pasteur in depth sufficient to satisfy any degree of scientific or historical scrutiny, and it contains, wherever possible, detailed references to the source material and supporting evidence.
Virtually no claim in Ms Hume's book is undocumented - to have access to more material, one would need to be able to read French, and go to the original source material.
The reader will soon discern that neither Mr Pearson nor Ms Hume could ever be called fans of Pasteur or his 'science'. They both declare their intentions openly; that they wish to contribute to the undoing of a massive medical and scientific fraud. The publication of this present edition of their work is undertaken in the same spirit.
"Nothing is lost, nothing is created ... all is transformed. Nothing is the prey of death. All is the prey of life." - Antoine Bechamp
CONTENTS
BOOK ONE
Pasteur: Plagiarist, Imposter
by R. B. Pearson
- Author's Preface
- The Prior History of the Germ Theory
- Bechamp, Pasteur, and Fermentation
- Vinous Fermentation
- Bechamp's Microzymas or 'little bodies'
- Silkworm Disease: Another Steal
- Pasteur also a Faker: Antisepsis
- Are Biologicals Injurious?
- Animal Serology: Anthrax
- Statistics
- Real Immunity

BOOK TWO
Bechamp or Pasteur?
A Lost Chapter in the History of Biology
by Ethel Douglas Hume
- Author's Preface
- Introduction
Part One: The Mystery of Fermentation
- A Babel of Theories
- Pasteur's Memoirs of 1857
- Bechamp's 'Beacon Experiment'
- Claims and Contradictions
- The Soluble Ferment
- Rival Theories and Workers
Part Two: The Microzymas
- The 'little bodies'
- Diseases of Silkworms
- Laboratory Experiments
- Nature's Experiments
- A Plagiarism Frustrated
- Microzymas in General
- Modern Confirmations of Bechamp

Part Three: The Cult of the Microbe
- The Origin of 'Preventive Medicine'
- The International Medical Congress and some Pasteurian Fiascos
- Hydrophobia
- A Few Examples of the Cult in Theory and in Practice
- Some Lessons of World War I and a Few Reflections on World War II
- The Writing on the Wall
- Conclusion
From the Introduction
It is a serious matter to attack the reputation of a famous man, especially one who has posed - and been accepted - as one of the world's greatest scientists. For many years, Pasteur has been looked upon as a founder and leader in serology; but it is always pertinent to look into the beginnings of any subject on which there is a difference of opinion, with the hope of finding the truth in the matter. The writer has made an effort in his prior books and pamphlets to show that the germ theory is false, and that illness is practically always due to errors of diet or manner of living, the germs being present solely as scavengers of dead and waste tissues and foods, and not as the cause of the disease.
However, the erroneous belief that germs cause disease and must be controlled or eliminated before it can be cured is so widespread as to close the minds of many people to any other ideas.
Advertisement