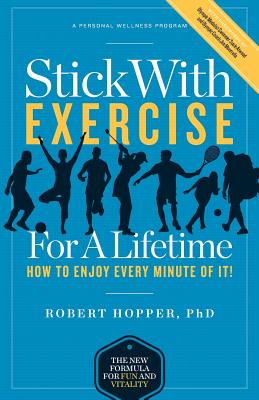 Stick with Exercise for a Lifetime: How to Enjoy Every Minute of It! (Paperback)
How to Enjoy Every Minute of It!
Createspace Independent Publishing Platform, 9781467909938, 130pp.
Publication Date: June 27, 2012
About the Author
Robert Hopper has assisted thousands of adults in realizing their fitness goals. The author and wellness speaker's previous books include the bestselling textbook The HSA Strategy (2006) and Healthcare Happily Ever After (2007). Hopper attended The Ohio State University, where he won an NCAA swimming championship and set the American record for the 200 individual medley in 1965. He received his master's degree in physiology from California State University Long Beach in 1970. The same year, he developed and patented a swimmer's weight-training system now used by colleges and universities throughout the United States. Hopper earned his PhD in exercise physiology in 1977 at the University of Southern California. At Occidental College, he taught the health benefits of exercise and served as head coach of the men's swimming and water polo teams. He went on to found a health-management company, creating corporate wellness programs, followed by a private insurance agency. In 2007, Hopper was honored with membership in the Occidental College Aquatics Hall of Fame. In 2009, he was inducted into The Ohio State University Varsity "O" Hall of Fame, joining the ranks of such athletic stars as Jesse Owens and Jack Nicklaus. He lives with his wife in Santa Barbara, California. His lifetime sports include golf, cycling, and skiing.
Advertisement