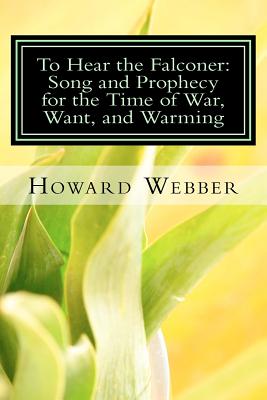 To Hear the Falconer: Song and Prophecy for the Time of War, Want, and Warming (Paperback)
Song and Prophecy for the Time of War, Want, and Warming
Createspace, 9781467916202, 154pp.
Publication Date: May 13, 2012
Description
To Hear the Falconer: Song and Prophecy for the Time of War, Want, and Warming is a contemporary religious reflection on the state of our world. It is intended as a foundation document for the emerging church: a spiritual community containing both conventional and unconventional believers-and many nonbelievers as well. The author is convinced that the Judeo-Christian tradition offers critical tools to address war and sectarianism, global warming, and environmental degradation. But they have been lost to many, and now through this book they are being recovered. With W.B. Yeats in his "The Second Coming," the author believes that 'the blood-dimmed tide is loosed, and everywhere the ceremony of innocence is drowned.' With Yeats he concludes, 'Surely some revelation is at hand.' A fulcrum for the book is the Gospel According to John, in which the Rabbi tells his disciples, 'There is still much that I could say to you, but the burden would be too great for you now' (John. 16). He then proclaims a new covenant. 'But when he comes who is the Spirit of truth, ' Jesus promises, 'he will guide you into all the truth; for he will not speak on his own authority, but will tell you only what he hears; and he will make known to you the things that are coming.' In To Hear the Falconer the author attempts, as a recorder, to set down a renewed message from that Spirit of truth, or the Advocate as he is often called. But who is this Advocate? He is an invisible speaker, a ghostly teller, a voice unlike the voices we hear around us, the voice of conscience and wisdom, but more than that: the voice of an awareness that suffuses the whole universe, the voice of a universe we do not understand, for all our science-of energies we do not perceive, of a gorgeous interlocking physics we have barely begun to appreciate. Not your ordinary religious book, To Hear the Falconer is about getting out of the trouble we are in. It is about perception and understanding. It is about hope. But it is also about danger. We are endangered by our abuses of the gifts we have been given. Some of us have prospered beyond all reason, turning our eyes away from our brothers and sisters who lack what we have in plenty. We have fouled land, air, and water, as well as our own hearts. We have diminished the animals and fish and trees and all other growing things. We have turned our minds and our senses inward, seeking every indulgence available to our bodies and minds, contriving cunning devices with which we play games that stupefy us with their absolute irrelevance. We have dazed our minds with chemicals, which we have bought with the blood of our brothers and sisters, near and far. And we have set underway wars beyond all imaginable cruelty, sacrificing our young men and our young women in pursuit of our own preeminence. Long in the making, Falconer is a plea to its readers to come to understand that we cannot continue our lives according to the patterns of the past. After an introduction that provides the context of the work, the main text that follows consists of 72 verses, psalmic in style, some of them assurances of comfort, others calling for repentance, that is, change-frightening warnings but instructions for cure also. The language is easily accessible, with roots in Isaiah and Jeremiah as well as in the New Testament. Brackets contain pointed Scriptural references from these and other Biblical sources. Though Christianity is the lens through which the author interprets reality, he does not diminish other lenses but has given us a book likely to be valued by readers in many cultures and of many convictions. Howard Webber was a well-known author, and editor and publisher of scholarly books, before joining a large IT firm, where he ultimately became manager of advanced development. He was for many years a lay minister in the Episcopal Church.
About the Author
Howard Webber was a successful author and an editor and publisher of celebrated scholarly books, before joining a one of the world's largest IT firms, where he ultimately became a manager of advanced development. He was for many years a lay minister in the Episcopal Church.
Advertisement