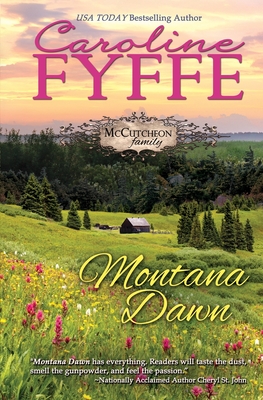 Montana Dawn (Paperback)
The McCutcheon Family Series
Createspace Independent Publishing Platform, 9781467942379, 326pp.
Publication Date: November 24, 2011
* Individual store prices may vary.
Description
MONTANA DAWN - Book One in The McCutcheon Family Series 2010 Maggie Finalist, 2010 Gayle Wilson Finalist, RWA Golden Heart Finalist When Luke McCutcheon finds Faith Brown about to give birth in her rickety wagon, his first instincts are to ride for help. Instead, he stays and delivers a beautiful baby girl. Unable to leave the pretty young widow and her little son and newborn unprotected in the Montana wilderness, he brings them along on his family's cattle drive, to the absolute delight of the other friendly cowboys. "I enjoyed every minute of the book and that's about as good as a book can get " -Philosophy of Romance Luke, third son of Montana's wealthy McCutcheon family, is different from his brothers. As the offspring of a Cheyenne warrior, he carries a chip on his shoulder for all to see. His flashing eyes and handsome face make Faith feel she's stepped into some long-ago tale where men cherish their women--and keep them safe. If only she could trust him Faith is on the run, and although she's pampered and protected by Luke and his family, she just can't risk the consequences of sharing the details of her past--one that's hunting to take her back to the nightmare she's just escaped. Happy-ever-afters are for fairytales, she reminds herself sternly as her heart feels the warm pull of his. Still, she can't help but dream of a loving family, a home to call her own, a beautiful and bright...Montana Dawn "Caroline Fyffe's second tale grips the audience and never slows down for even a paragraph." - Harriet Klausner "In the tradition of classic Americana romances, Fyffe has found her place alongside Lisa Cooke, Linda Lael Miller and Catherine Anderson." --RT Book Review "Montana Dawn has everything. Readers will taste the dust, smell the gunpowder and feel the passion." - Nationally acclaimed author Cheryl St.John.
About the Author
Caroline Fyffe was born in Waco, Texas, the first of many towns she would call home during her father's career with the US Air Force. A horse aficionado from an early age, she earned a Bachelor of Arts in communications from California State University-Chico before launching what would become a twenty-year career as an equine photographer. She began writing fiction to pass the time during long days in the show arena, channeling her love of horses and the Old West into a series of Western historicals. Her debut novel, Where the Wind Blows, won the Romance Writers of America's prestigious Golden Heart Award as well as the Wisconsin RWA's Write Touch Readers' Award. She and her husband have two grown sons and live in Kentucky. Other works: MONTANA DAWN, Book One of the McCutcheon Family Series; TEXAS TWILIGHT, Book Two of the McCutcheon Family Series; and SOURDOUGH CREEK. Visit Caroline at www.carolinefyffe.com See her photographs at www.carolinefyffephoto.com Write to her at caroline@carolinefyffe.com. She loves hearing from readers!