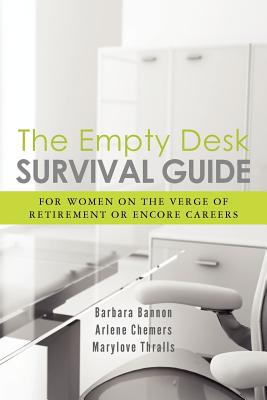 The Empty Desk Survival Guide: For Women on the Verge of Retirement or Encore Careers (Paperback)
For Women on the Verge of Retirement or Encore Careers
Createspace Independent Publishing Platform, 9781467963893, 148pp.
Publication Date: May 28, 2012
About the Author
BARBARA BANNON: An organizational consultant and coach, Barbara Bannon has reached out to over 500,000 people in Corporate America in her 25-year career. In her last corporate position with a Fortune 500 company, she was responsible for employee relations for 6000 employees. She has been the principal consultant of Human Resource Investments for 20 years. As an adjunct professor at Oklahoma State University, Barbara has been recognized as an outstanding professor. Among her recent publications is "Risky Business, Overcoming Fear and Mastering the Art of Conflict Resolution." ARLENE CHEMERS: A Certified Retirement Coach and Professional Coach, Arlene Chemers has extensive experience in career development, training, counseling and coaching in the corporate, management consulting and outplacement arenas. Formerly associated with an international outplacement firm and VP of a management consulting firm providing executive coaching and outplacement, she has also served as Corporate Manager of Employee Development for a Fortune 500 corporation. Her background includes authoring and conducting Career Development and Job Search Skill training programs, Executive and Management Coaching, Career and Professional Coaching, Retirement Coaching and Transition Management. She has a Masters Degree in Human Resource Management (University of Utah), is a Certified Professional Coach, and holds certificates as a Life-Time Senior Professional in Human Resources (SPHR) as a Career Management Professional (CMP) and is a Certified Retirement Options Coach. MARYLOVE THRALLS: Marylove Thralls has a Masters Degree in Human Relations (MHR) from the University of Oklahoma and is an accredited public relations professional. While serving on the management team of an international manufacturing organization, she was responsible for diversity training, employee relations activities and corporate communications. She has served as Director of Development and Director of Marketing for several non-profit organizations both in Oklahoma and California. She has written professional journal articles in the human relations field and has two published novels. She is currently a public relations consultant and an adjunct professor of marketing at Santa Barbara City College.
Advertisement